S'mores Stuffed Chocolate Chip Cookie Bars
While I'm sad that summer is ending, I'm pretty darn happy that the kids have gone back to school. Before we really get into the swing of school activities, we took a quick trip to visit family over Labor Day weekend as one last summer fling. As I've told you guys before, there are a lot of expectations for me to make something fabulous while I'm there. It's a lot of pressure to come up with something great every time.
My sister-in-law started texting me different pins from pinterest days before my visit for inspiration. One of the recipes she asked (or more like demanded!) me to make was the S'Mores Stuffed Cookies. (They were originally inspired by Picky Palate's recipe.) I'm sure you've seen it – an ooey gooey s'more stuffed inside a chocolate chip cookie. I have to admit it looked amazing. My only problem with this recipe is that the cookies are the size of my head. In order to get enough cookie dough wrapped completely around a full s'more, you have to make dinner plate sized cookies.
Who eats a cookie that big?
Okay, okay, maybe some of us could put that away in one sitting, but I knew that my family would go on and on about trying to make them fat. Not that I'm trying to do that but remember how much skinnier I will look if everyone around me is carrying a few extra pounds. 🙂
Since my sister-in-law was relentless about this recipe, I decided to make it but modify it so that people didn't feel pressured to eat a cookie the size of Texas. The easiest way to do it without trying to make mini s'mores was to turn it into bars.
Brilliant! (If I do say so myself!)
These S'Mores Stuffed Chocolate Chip Cookies Bars ended up being super easy to make and so delicious that the pan was empty by the end of the evening. They are goooood!
I made these bars in an 8×8 pan and the cookie dough was threatening to spill out and the bars were quite thick. You could always multiple the cookie recipe by 1 ½ and add more s'mores ingredients to make a 13×9 inch recipe. It might cook quicker with thinner bars but you can't go wrong with either size pan.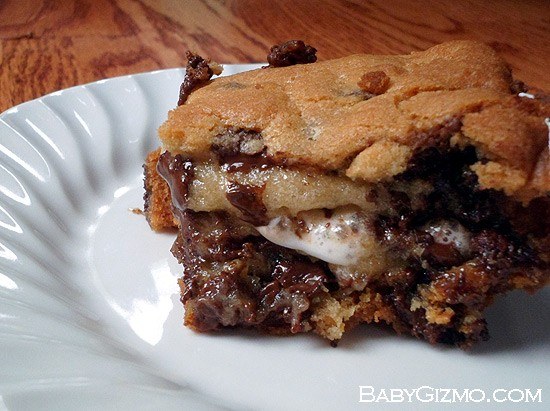 S'Mores Stuffed Chocolate Chip Cookie Bars
Ingredients:
Cookies:
1 cup butter (2 sticks) – softened
¾ cup sugar
¾ cup brown sugar
1 tsp vanilla
2 eggs
2 ½ cups flour
1 ½ tsp baking soda
1 tsp salt
12 oz semi sweet chocolate chips
S'Mores:
18 – graham crackers halves
18 – pieces from of Hershey's chocolate bars (2-4 chocolate bars depending on your pan size)
9 marshmallows (the flattened marshmallows work the best)
Preparation:
1.  Preheat oven to 375 and lightly grease an 8×8 baking pan (or 13×9 if you want thinner bars)
2. Combine flour, baking soda and salt and set aside.
3.  Blend softened butter and sugars with a mixer at medium speed until combined. Mix in vanilla. Add eggs one at a time and blend.
4.  Slowly add flour mixture and blend until the cookie dough is fully mixed. Stir in chocolate chips.
5. Press half the cookie dough onto the bottom of the prepared pans.
6. Top cookie dough with 9 halves of graham crackers. Place 2 rectangles of Hershey's chocolate bar on top of each graham cracker. Top each chocolate with a marshmallow.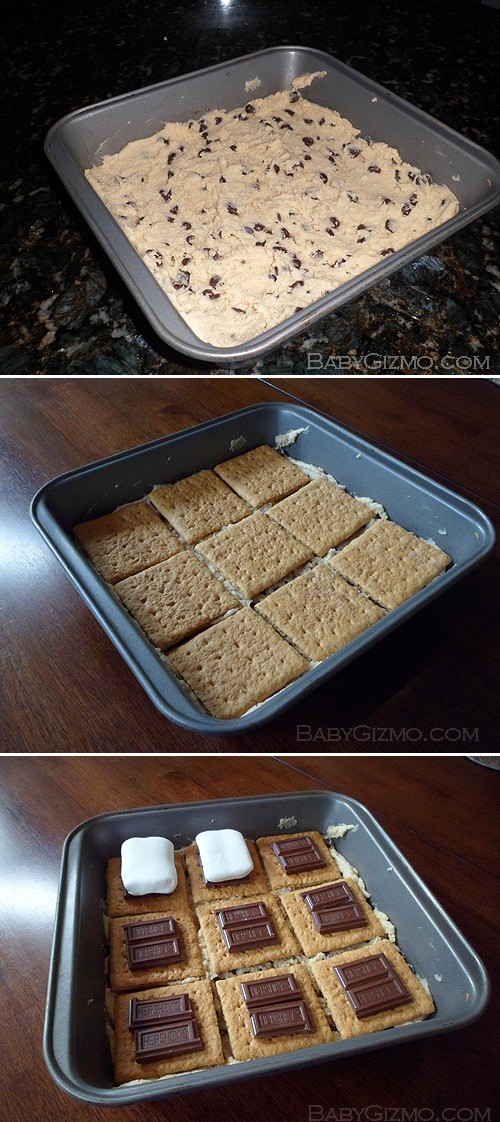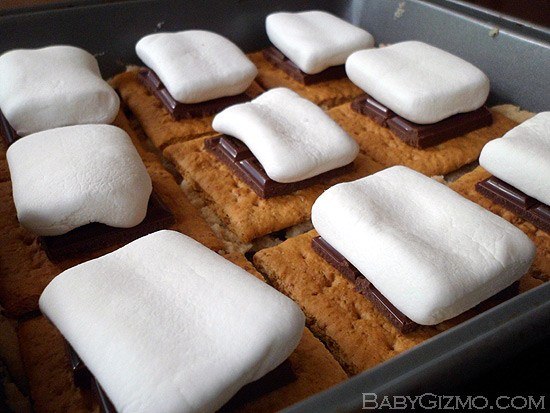 Complete the s'more by places a graham cracker square on top of each marshmallow.
Carefully spread the remaining cookie dough on top of the graham crackers. Be careful not to break the graham crackers as you spread the dough but if you do it's not the end of the world.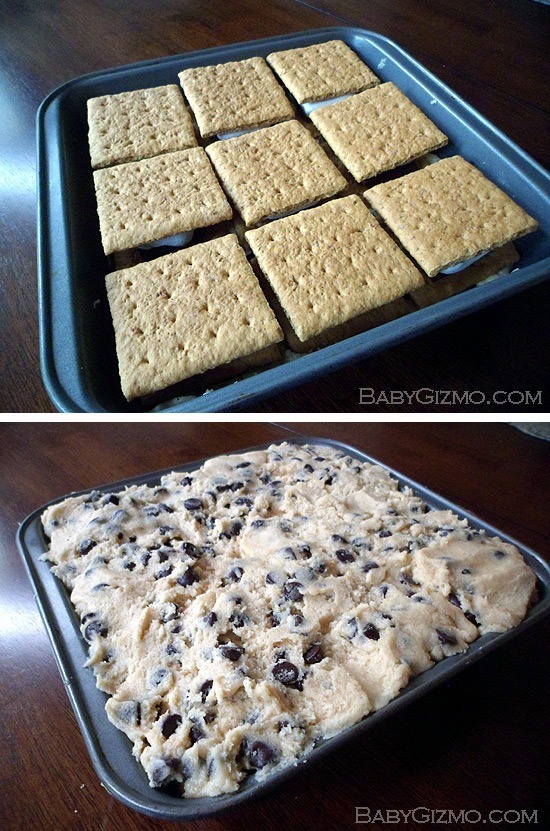 Bake for 30-35 minutes until the top of the cookie dough no longer looks raw. Cool slightly and then cut into squares and enjoy.