Easiest, Crispiest Bacon You've Ever Had!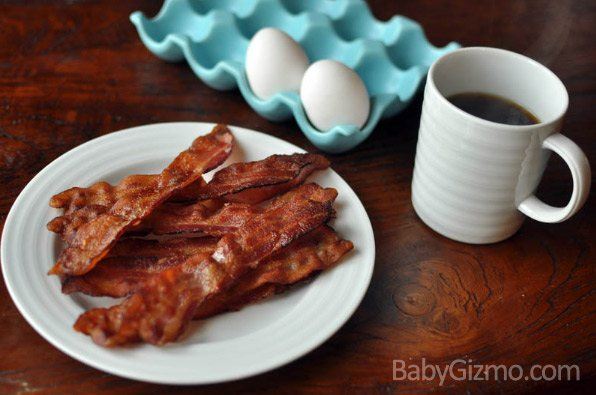 You know that when a person claims something is the "easiest" or the "crispiest", they better mean it. And I do! Seriously, folks, I'm not a bacon eater but my husband is and he approves of this method without question. And whether you are a bacon fan or not, you have to agree, it's kind of a pain in the butt to fry it up in a skillet on your stove top. Grease spatter is everywhere  making it a serious hazard to cook with, especially with little ones flying around at your feet. And don't even get me started on having to hover over it so it stays flat and doesn't burn. UGH!
While my family doesn't eat bacon all that often and when we do we stick to nitrate-free, I actually stopped making it all together because of the mess. That is, until I found out how to bake bacon. Yup! That's right! Bake. Bacon. Stay with me, people. The flavor is still the same, this isn't an attempt to "diet-ize" (like my new word?) your favorite morning indulgence. I wouldn't dream of doing that!  It's actually a method employed by many caterers and restaurants and is a super way to cook a ton of bacon all at once (helllo, brunch parities!).
The method couldn't be simpler. It's all done on a baking sheet which means no one is stuck hovering over a pan of hot grease getting a bacon facial just to get the job done. Simply, line a rimmed baking sheet with foil, place bacon side by side, bake, drain, serve. Done and done.  All of the grease remains on the baking sheet and all you need to do is drain the oil (not in your sink!), toss the foil and wash the pan in hot soapy water. No scrubbing, no grease burns. The result is a super crispy, perfectly flat piece of bacon. I'm taking the  quality that you get in expensive brunch places. You can even get all fancy and sprinkle your bacon with some brown sugar before baking. And just like that, cooking bacon is fun again!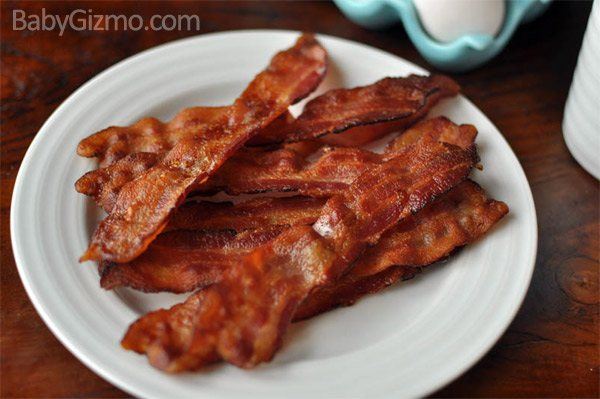 Baked Bacon
Serves 4-6
Ingredients:
1 (8ounce) package of high quality bacon (preferably nitrate-free), we like Applegate Farms
Instructions:
1. Preheat oven to 375 degrees. Place oven rack on the lower third of the oven.
2. Line a large rimmed baking sheet with aluminum foil. Place bacon strips side by side on baking sheet leaving about 1/2 inch of space in between them. Cook bacon in the oven for 10-12 minutes. Remove bacon from baking sheet and drain on a paper towel. Allow bacon grease to cool before disposing of properly. Serve.