Ham and Cheese Gold Fish Sandwich
School is right around the corner and all I am obsessing about is what am I going to put in my little munchkins lunch boxes everyday! We were at our local stop and shop supermarket and I picked up a package of Pepperidge Farm Goldfish sandwich bread. The bread is whole grain and a fun alternative to regular sliced bread.  I add a little fresh apple, drizzle a little honey and just like magic the kids think there eating a brand new sandwich!
The real magic is that this sandwich takes less than 5 minutes to make.  When I make a sandwich for the kids I always try to add a vegetable or fruit inside.  Baby spinach, thinly sliced baby carrots, tomatoes, cucumbers and apples seem to be my go to magic tricks when I am looking for something to add in between two slices of bread. This ham and cheese apple sandwich will be your go to sandwich this school season.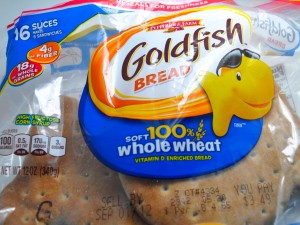 INGREDIENTS:
1 Goldfish sandwich bun
2 slices of ham
1 slice of american cheese
2 slices of granny smith apple finely sliced
Drizzle of honey
non stick spray
METHOD:
1. Arrange the sandwich first lay cheese on the bottom bun then follow with ham, apple, honey, cheese then top bun.
2. Spray non-stick spray and brown the sandwich on both sides until the cheese melts.