While visiting family out of town for the holiday this past weekend, I baked so many yummy goodies that it's truly hard for me not to share them with you all at once. Not to overwhelm you, I'm sharing the recipes one by one over the next couple weeks.
This holiday I really knocked it out of the park with the desserts I chose to make. I'm not one to make the same thing over and over, so I chose to make new-to-my-family-recipes that included a cake, bars, bread, dessert balls and more.
Today I'm starting out with one of the best. This cake ties for the first place dessert that my family loved the most on Christmas Eve. My family couldn't decide if the Pecan Pie Truffles that I shared with you on Monday or this Pumpkin Crunch Cake was the best so we called them both the best. The Pecan Pie Truffles were the "Best. Dessert Balls. Ever." and the this cake is the "Best. Cake. Ever."
Seriously, I wouldn't lie to you, this cake is delicious! I ran into a problem in the middle of making the cake when I was taking the cakes out of the pans that almost made it a complete Pinterest Fail but I was able to pull it all together and make it look perfect. It just took a little tender loving care and piecing some of the cake back together but you'd never know it by the finished product.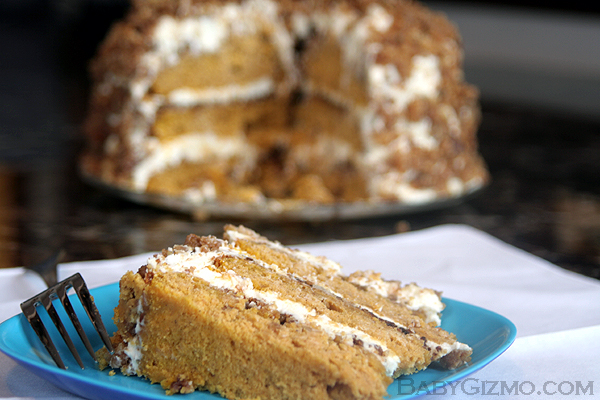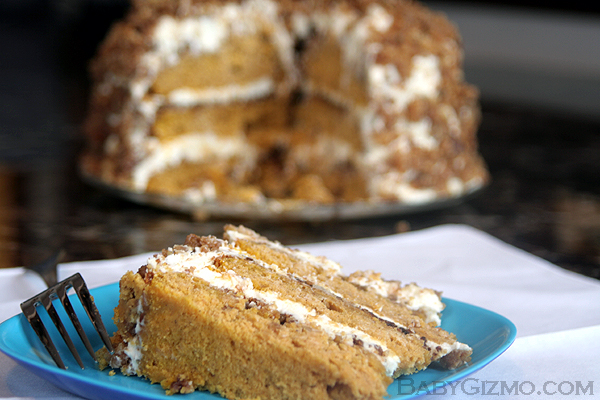 Pumpkin Crunch Cake
Pumpkin Crunch Cake recipe
Ingredients
Crunch Topping
3

Cups

walnuts, finely chopped

3

Cups

vanilla wafers (about 75 cookies)

3

Cups

brown sugar

12

oz

butter
Pumpkin Crunch Cake
1¼

cup

sugar

6

oz

softened butter

1 16

oz

can solid pack pumpkin

2½

cups

all-purpose flour

½

Cup

Greek yogurt

1

Tablespoon

pure vanilla

1

Tablespoon

pumpkin pie spice

2¼

tsp

baking powder

¾

Teaspoon

baking soda

½

Teaspoon

Salt

4

Large Eggs
Cream Cheese Frosting
24

oz

cream cheese

8

oz

softened butter

2

cups

confectioners (powdered) sugar

1

Tablespoon

pure vanilla
Instructions
CRUNCH TOPPING
Melt Butter

In a food processor, pulse cookies to a fine crumb. Remove from processor and put into a medium bowl.

Then pulse walnuts to very small pieces. Add walnuts to the bowl with the cookie crumbs.

Add in Brown Sugar and mix well.

Add in Melted Butter and mix until completely blended.

Place one very full cup of the mixture into 3 greased 8" round cake pans, pressing into bottom and spreading it evenly into the cake pans. Reserve about 2 cups of the mixture which will be baked to use on the sides of the cake.

Set pans aside and begin cake.

Preheat Oven to 350 degrees.
PUMPKIN CAKE
In your mixer beat sugar and butter for about 3-5 minutes until light and fluffy, scrapping down the bowl frequently .

Add In Pumpkin and all the rest of the ingredients, except the eggs. Mix just until blended. Do not over blend.

Add in the Eggs, one at a time just until blended.

Divide batter equally into your 3 prepared cake pans on top of the nut/cookie mixture, smooth it out and make it as even as possible in the pan.

Place remaining crunch mixture in a 4th cake pan or pie dish and allow to bake for the same amount of time as the cakes.

Bake in a 350 degree oven for about 25-30 minutes or until a toothpick inserted in the center comes out clean. If you use 2 racks to bake on in the oven, at the halfway mark rotate the pans .

Allow pans to cool about 10 minutes, then turn them out onto a wire racks and allow to completely cool. DO NOT LET THE CAKES COOL IN THE PANS. This is important because the crunch mixture will stick to the pans and you'll be scraping it out. I made this mistake and ended up scraping much of the crumb mixture off the pans and piecing it back together on top of the cake layers. This was almost a Pinterest FAIL! Luckily I fixed it all in the frosting stage of the cake.

Break up the extra crunch mix to very small bits to use to decorate the cake with.

While your cakes are baking prepare a Cream Cheese Frosting.
CREAM CHEESE FROSTING
Whip the cream cheese and butter till very smooth and creamy

Slowly add in the powdered sugar while mixer is on low setting

Add in Vanilla and mix well. Set aside till needed.
ASSEMBLY
After your cake is completely cooled. I recommend refrigerating the layers for an hour or so to make frosting easier, especially if you had to piece the crumb mixture back on top of the cake. Then begin frosting the layers and putting the cake together.

Frost one layer of cake. (If you use the icing recipe I list here, you'll have plenty of frosting to make pretty thick layers in between the layers.) Top the frosted layer with a second layer and frost the top. Repeat with the third layer.

When you have assembled all the layers with some frosting between them, start to spread the remaining frosting on the sides and top.

When finished frosting the cake, coat sides and top with your extra crunch mixture. Just take handfuls of the crunch mixture and carefully smash it into the sides of the frosted cake.

*Store cake in refrigerator.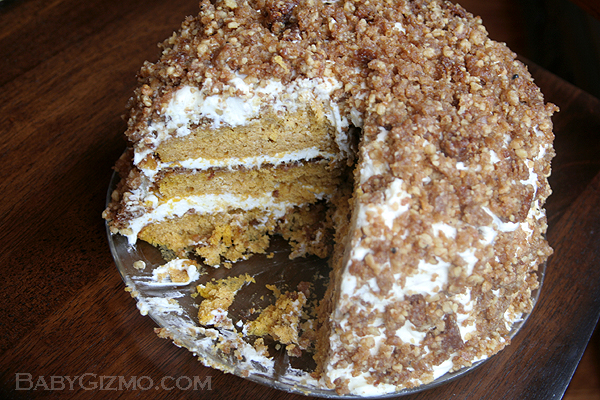 Once you are finished frosting your cake, refrigerate it for a few hours before serving. Chilling the cake will help hold every thing together and firm the cake up. Since the frosting has cream cheese in it, keep it stored in the refrigerator. This is a very rich, heavy cake and will feed loads of people. You can feed AT LEAST 12-16 people! It's a great cake for a party or a holiday. Every one in my family LOVED it! For your next party or holiday, you have to whip this one up. It's A-M-A-Z-I-N-G!!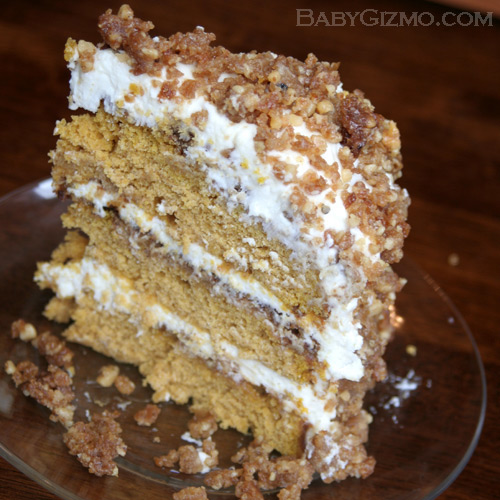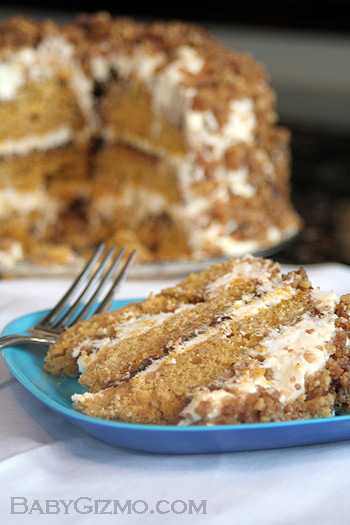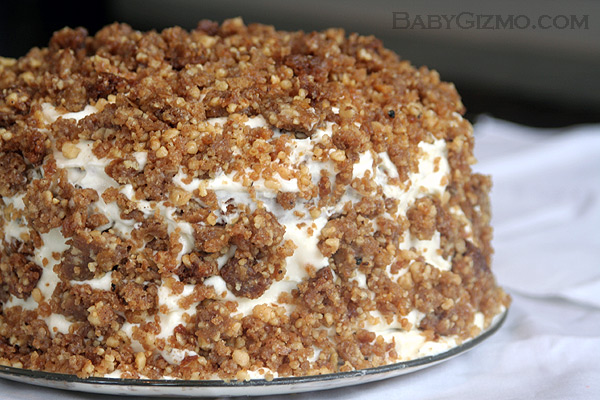 Recipe adapted from Good Housekeeping Desserts and Ask Chef Dennis.