Pumpkin Chocolate Chip Cookies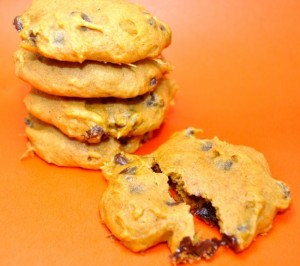 One of the kids' favorite things to bake are homemade chocolate chip cookies. It's a family event everyone helps and we all sit by the oven  door waiting for  our cookies to bake.  This time we added pumpkin puree to our original chocolate chip cookie recipe and they were delicious!
This recipe is the best of both worlds they are the consistency of a cookie/cake. I divided the batter and put chocolate chip in one and white chocolate chip in the other the kids preferred the chocolate I preferred the white chocolate.
This would be a great recipe to bring for thanksgivings instead of pumpkin pie. I hope you enjoy them as much as we did!
Ingredients:
2-1/2 cups of flour
1/2 cup of brown sugar
1 cup of cane sugar
2 cups of semisweet chocolate chips
2 large eggs
1 cup of pumpkin puree
1/2 cup of butter at room temperature
2 teaspoons of pumpkin pie spice
1 teaspoon of vanilla extract
1 teaspoon of baking soda
1 teaspoon of salt
Method:
1. Preheat oven to 350 degrees.
2. Whisk all dry ingredients together flour, baking soda, pumpkin pie spice, and salt.
3. In a separate bowl combine butter and sugars with a whisk or electric beater until well incorporated then add vanilla, pumpkin, and eggs.
5. Stir dry ingredients into wet ingredients then add chocolate chips.
6. Using a tablespoon drop cookie dough onto cookie sheet bake for 12-15 minutes.
* Recipe makes 30 yummy cookies.