The Slow Cooker is my Nemesis — Curried Squash and Chickpea Stew
I know we're just getting to know each other, but I have a confession to make.  The slow cooker scares me.  There, I said it!  I think I'm a pretty good cook but for some reason I cannot manage to figure out cooking in my slow cooker.  Every time I make meat it comes out dry. It just seems so easy and practical and perfect for a parent who has 8,072 things to do in any given moment.  I really really REALLY want to make delicious things in the slow cooker but it often goes badly.  Some people understand my troubles.  Others look at me as if I just told them I'm a grown woman who can't boil water.  Why won't it work for me?!  The answer is clear: My slow cooker hates me.  I see no other explanation.
Alas!  I do have a few fail-proof slow cooker recipes that are awesome and healthy.  Take THAT,slow cooker!  You aren't the boss of me!
I love making soups in the fall and winter not only because they are warm and wonderful when the weather outside is frightful, but because it is easy and inexpensive to make a big pot of soup that will last for several meals.  My newest favorite slow cooker recipe is a soup that will punch you right in the mouth with flavor – in a good way, of course.
This recipe originally came from The Kitchn – it is completely customizable so make it your own!
Curried Squash and Chickpea Stew
2-3 pounds of winter squash or sweet potatoes (use more or less – this is not exact)
1 onion
3 cloves of garlic
1 or 2 16oz cans of chickpeas
Kale or other leafy green (spinach or collard greens would work fine)
4 cups of vegetable or chicken stock – this exact amount depends on the amount of veggies.  Just make sure you have about 4 cups on hand (1 box usually is about 4 cups).  You can always top off with water if necessary.
1 28oz can of diced tomatoes
1 14oz can of coconut milk
2 tbsp curry powder (use less for a more subtle curry flavor)
Optional: 1-2 tbsp brown sugar (use up to 2 tbsp, but I think 1 is plenty sweet)
Optional: Chicken sausage — I used a sweet mango sausage and it worked great.  Something smokey like andouille might work well too.
I like to use butternut squash for this but I have used sweet potato and it works just fine.  Don't be intimidated by whole butternut squash! They aren't so difficult to work with as long as you have a sharp knife. But if you are pressed for time, you can often find butternut squash that has already been cleaned and chopped in most super markets.  It definitely costs more per pound, but some people find the convenience to be worth it.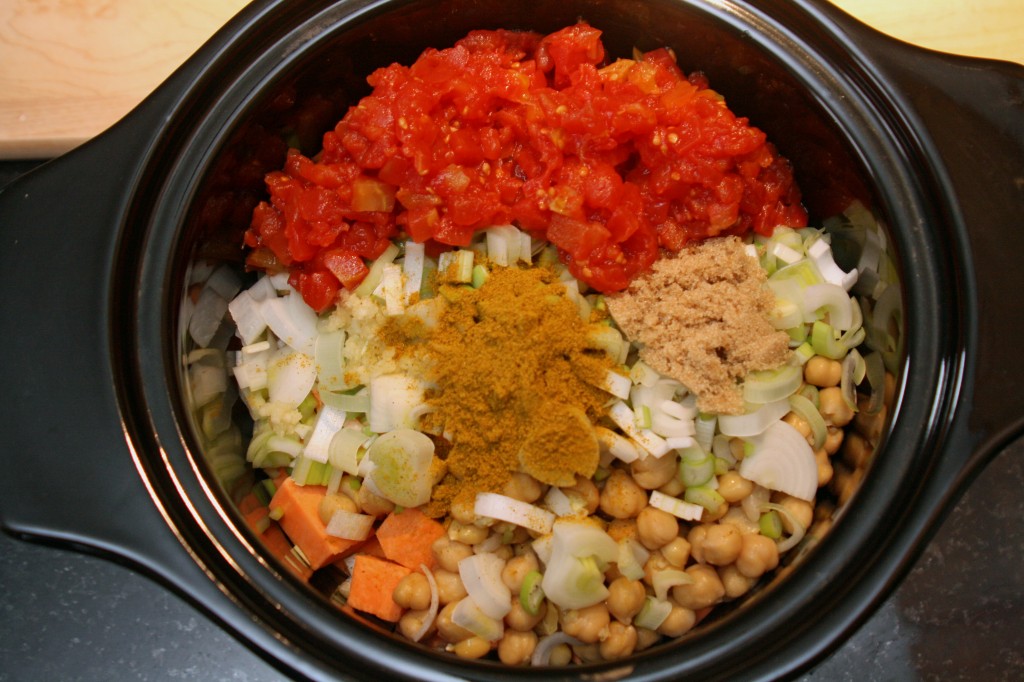 Anyway… get your squash.  Peel it with a regular ol' vegetable peeler.  Cut the ends off.  Cut the big round part off just to make it easier to manage.  Slice both pieces down the center.  Scoop the seeds out.  Dice the squash.  Toss into your slow cooker.
And of course sweet potato is pretty simple to handle too — peel and dice.
Dice the onion.  Mince three cloves of garlic (or smush them in a garlic press, my favorite time saving tool).  All into your slow cooker.
Drain and rinse a can or two of chickpeas.  (Rinsing is really important with any canned beans.  The gooey stuff that's in a can of beans is LOADED with sodium.  Rinse as much off as you can.)  Into your slow cooker.
Add the can of diced tomatoes and their juices to the slow cooker.
Add the curry powder and brown sugar.  Once it has cooked for a few hours you can taste the soup to see if you need more seasoning.  If your family likes a little heat, sprinkle a little cayenne or hot smoked paprika in too.
Finally add the stock.  It should cover everything in the slow cooker.  If it doesn't, add a little water.  Add a pinch of salt and a little black pepper. You can always add more later, so don't overdo it.
(You can definitely assemble this the night before and just pop it in your slow cooker in the morning.)
Let that cook on low for about 6-8 hours or on high for about 4 hours.
While it is cooking (or the night before), clean and prepare your kale.  If you've never used kale before, you should give it a try. I like the texture and the subtle flavor more than spinach.  Remove the leaves from the stems.  To do this, fold the leaves so that the stem is like the spine of a book.  Pull the leaves off the stems.  (This is a great task for the kids!) Gather them all together and chop.  They don't need to be perfect… just chopped!
If you're using sausage, slice it however you like.  I like to do half-circles.  If you get the chicken sausage that is already cooked (most is — check the outside of the package), you can slice and cook it straight out of the freezer.  Add a little oil to a hot pan and toss in the sliced sausage.  Once it is a little browned and hot all the way through, it is done.
Add the kale, sausage, and the coconut milk to the slow cooker.  Turn the slow cooker to high and cover.  If you're using kale, it should take about 20-30 minutes to wilt into the soup.  Spinach would go more quickly.
Taste the soup and adjust the seasonings.  Once it is ready, serve as is or over rice or couscous.
(No slow cooker in your kitchen?  Follow this recipe in a large pot or Dutch oven.  Cook the sausage in a large pot and then add the other ingredients.  Simmer for 30 minutes and then add the kale and coconut milk just like if you were using a slow cooker.)
This soup is absolutely delicious!  A little sweet, a little savory… just right!  The curry flavor is subtle enough that kids will enjoy this but it also makes it interesting enough that an adult will enjoy it too.  You could also use whatever veggies your family likes instead of the ones I suggested.  Have some leftover chicken you need to use up?  Toss it in.  And if coconut milk isn't really your thing, leave it out.  This soup is great without it, although adding the coconut milk gives it a little something extra so I encourage you to try it.  One pot of this is enough for about six bowls the size of the one in the photo.
Take THAT, slow cooker!