Bottom Of The Bag Recipe: Honey Mustard Pretzel Chicken Tenders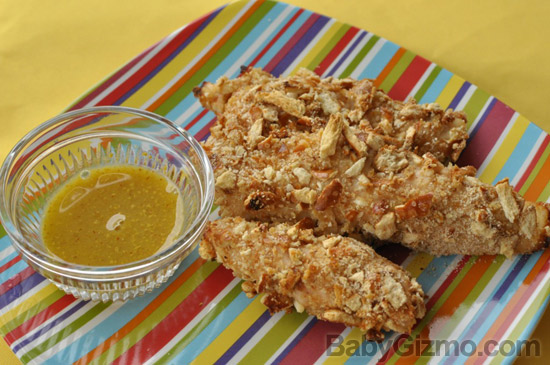 Raise your hand if you are over the regulation chicken finger thing. You can't see me of course, but I have both hands up. In fact, if I see one more chicken finger on a "kids" menu, I think I'll scream. Sure, kids like them (unless you my oldest son who just isn't a fan) but really, we gotta get beyond the boring old chicken finger and onto something a little more exciting, don't ya think?
Don't worry, I'm not asking you to abandon one of the foods your kids most likely adore. I would never dream of doing that. I'm simply here to offer you a way to kick it up a notch and give you a meal the entire family will love. I know a lot of parents struggle with having to make a few separate meals for all of the different food requests/aversions/issues we have going on in our houses and that kinda thing gets stressful—FAST! I mean, seriously folks, all us parents really want come mealtime is food the entire family will eat. Amiright?
Enter: Honey Mustard Pretzel Chicken Tenders.
C'mon, admit it, the title alone made you smile, right? Me too. This recipe is what I like to call a "bottom of the bag recipe" because it's a great way to use up leftover pretzels AND it's crazy delicious!!! Using a honey mustard dressing as the "glue" to get the pretzels to stick to the chicken is a little trick I learned back in my Weight Watchers days and it works like a charm and the chicken stays super moist. Coat those bad boys in some crunchy pretzels and you've got a match made in dinner heaven.
You're welcome!
Honey Mustard Pretzel Chicken Tenders
Serves 4
Ingredients:
1/4 cup apple cider vinegar

1/4 cup honey

2tbsps dijon mustard

¼ teaspoon salt

¼ teaspoon black pepper

1/3 cup canola oil

1/2 lb pretzels, crushed

1 pound chicken tenders, or chicken breast cut into strips
Instructions:
Preheat oven to 400 degrees. Place a rack inside a rimmed baking sheet and set aside. If you don't have a rack, line your baking sheet with foil and lightly coat it with oil or cooking spray.
In a large bowl, whisk together vinegar, honey, vinegar oil, mustard, salt and pepper. Continue whisking as you stream in oil. Whisk until mixture is well combined. Remove 1/2 cup of dressing and reserve as a dipping sauce for later. Add chicken tenders to the remaining dressing and toss to coat.
Note: You can prepare the chicken up to this point a few hours ahead of time and allow it to sit in the marinade in the refrigerator, covered in plastic wrap.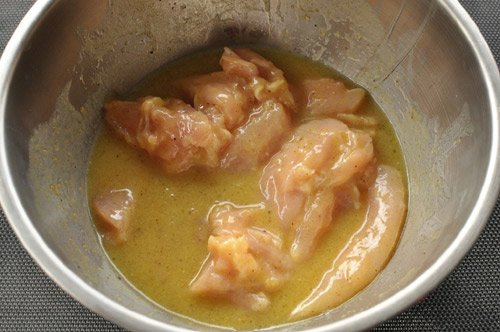 Remove pieces of chicken from marinade allowing any excess dressing to drip off. Place chicken into crushed pretzels and press down firmly so coating sticks. Lay chicken on prepared baking sheet. Bake chicken for 20-25 minutes (depending on the thickness of your chicken). Do not over cook or it will dry out.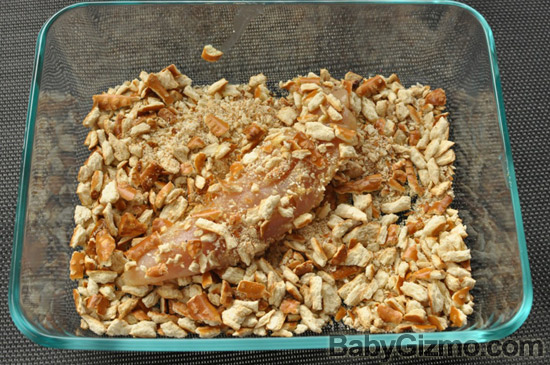 And…the finished product…