Six Chip Peanut Butter Cookies
I've got myself in a little baking bonanza right now. To be honest, I'm always the Baking Betty but I just haven't shared that with you until recently. One of my good friends told me that I might be baking more lately because I'm trying to diet and slim down. Yes, I know that makes no sense, but it might be true. She sent me a text of this photo and said it fit me perfectly!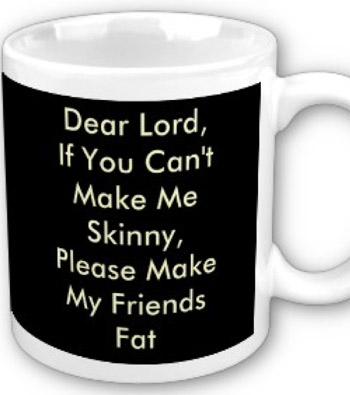 I can't say that I disagree with her. She has nailed it!  I've always joked with my family that the only way I'm going to look skinnier is to make them all fat around me. Hmmmm.  Maybe that's exactly what I'm doing subconsciously? Or maybe on purpose? I don't know. 🙂 Think about it this way – of course, I would look skinnier if I chub up all the people around me!  Sure makes dieting easier!
Either way, boy, do I have a doosey for you today!!  I mentioned last week that I used to own a gourmet cookie company. Today, I'm going to share the recipe of one of the signature cookies that I used to make. It used to be called "Five Chip Peanut Butter Cookies" but I've since modified it with the popularity of the dark chocolate chips that you can now find everywhere. Now, they are the SIX Chip Peanut Butter Cookies! They are THE perfect peanut butter cookie. A bit crunchy on the outside but soft and gooey on the inside. Plus, add in 6 different chips and you'll be in heaven!

Six Chip Peanut Butter Cookies
Ingredients:
1 cup margarine, softened
1 cup peanut butter
1 cup sugar
2/3 cup brown sugar
2 eggs
1 tsp vanilla
2 cups flour
1 cup oatmeal (quick or old fashioned oats)
2 tsps baking soda
1/2 tsp salt
2/3 cup milk chocolate/peanut butter chip combination (Either buy them separately or you can buy the Nestle Peanut Butter & Milk Chocolate Chips bag)
2/3 cup semi-sweet chocolate chips
2/3 white chocolate chips
2/3 dark chocolate chips
1/3 butterscotch chips (this can be left out!)
1. Cream the margarine, peanut butter, sugar and brown sugar in a mixer.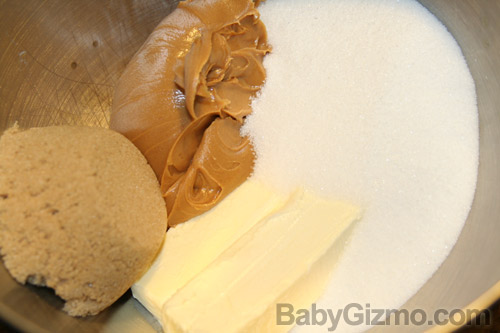 2. Add eggs and vanilla. Mix. Combine the flour, oatmeal, baking soda and salt and add to the cream mixture. Combine all the chips in a separate bowl and mix 'em up. (NOTE: Because Butterscotch Chips have a very overpowering flavor, I only put in 1/3 cup as opposed to the 2/3 cups of all the other flavors. If you do not LOVE butterscotch flavor, I recommend leaving them out all together. )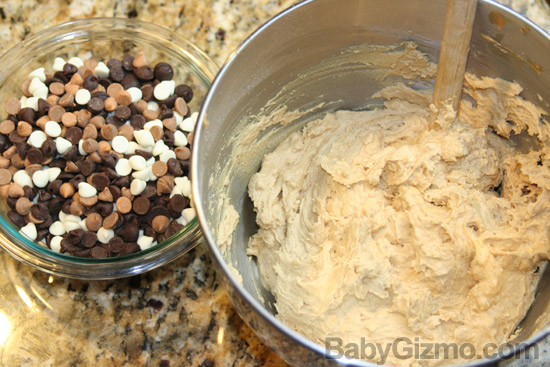 3. Add chips to dough and mix by hand.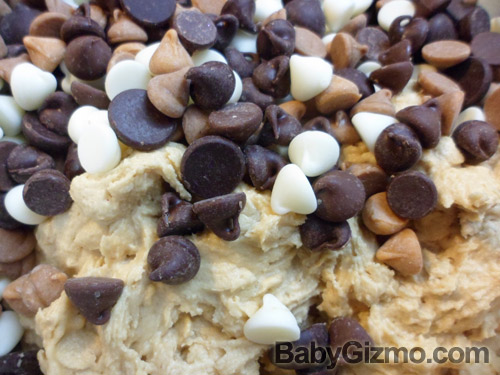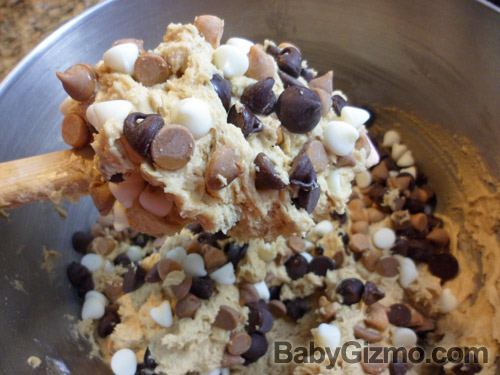 4. Place 1/8 cup dough (1/4 cup if you want BIG cookies!) on a cookie sheet about 2″ apart.  Sprinkle with additional chips if you would like to fancy 'em up!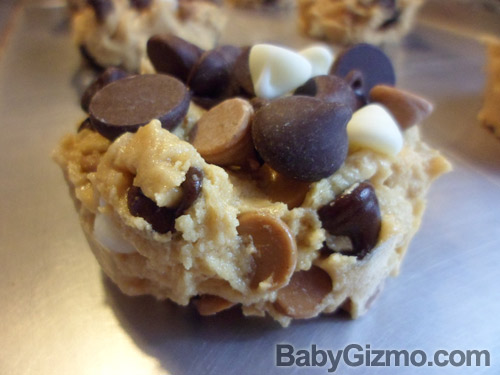 5.  Bake at 350 degrees for 10-12 minutes. Let cookies sit on pan for 3-5 minutes after baking for easy removal from pan.