Confession time. I've been struggling with dinners lately. While dessert is never a problem with me, I'm just not that great at thinking of good dinner ideas. I can think of different cookies, pies, cakes and bars to make all day long but when it comes to planning dinner, I'm just not that great at it. Okay, I suck at it.
Thankfully, Pinterest came along and has been saving me the last year or so. I am able to scan and pin all kinds of different ideas to try to mix things up at mealtime in our house. I figure since there has to be other people out there like me who struggle with what to make for dinner, I would share good recipes that I discover with you from time to time.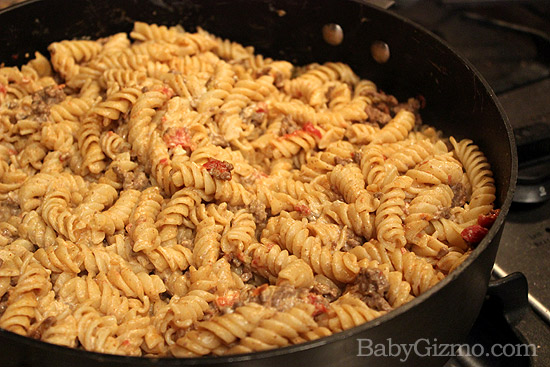 Last night's dinner was one of those nights. Pinterest to rescue. Okay, it's not fine dining but this Taco Pasta was a huge hit with my kids and hubby. It takes some of my go-to dinners and mixes it up. Pasta meet taco! *You can add onion and cilantro to the pasta and cheddar cheese on top but I wanted to keep it simple.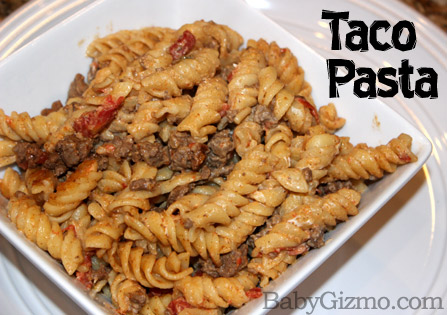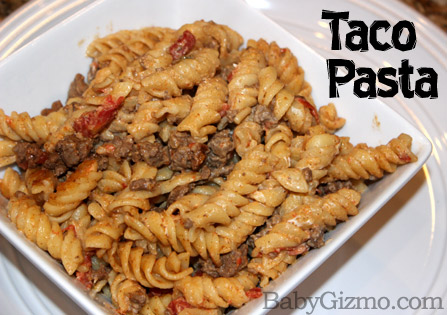 Creamy Taco Pasta
Ingredients
1

lb

ground beef

or ground turkey!

8

oz

dry pasta + 1 cup reserved pasta water

1

can

14.5 oz petite diced tomatoes, drained (I used Rotell)

4

Tbsp

mild taco seasoning

3

oz

lite cream cheese

1/2

cup

lite sour cream

cheddar cheese

optional
Instructions
Cook the pasta according to the directions. Drain the pasta but reserve one cup of pasta water.

While the pasta is cooking, over medium heat, brown the ground beef. Add taco seasoning and diced tomatoes. Simmer over low heat for 5 minutes.

Add cooked pasta, reserved water, cream cheese and sour cream to the cooked beef (turkey). Cook over medium heat until the cream cheese is melted and all the pasta is piping hot. Simmer over low heat for 2-3 minutes.
Notes
Use whole wheat pasta, ground turkey, lite sour cream and cream cheese to keep this dish as healthy as possible.