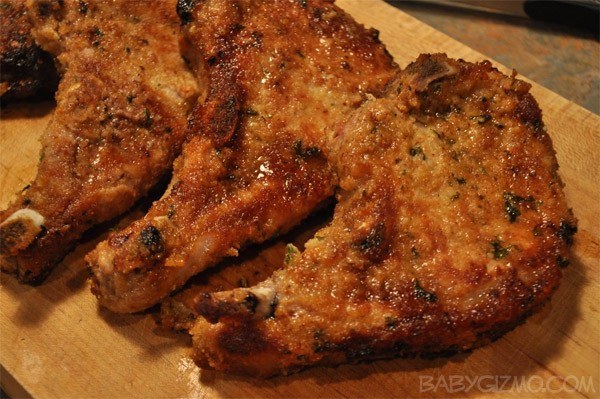 I get asked a lot about weeknight meals. People are always curious what my weeknight go-to family meals are. Because I develop recipes for a living I think that most people assume I'm feeding my family fancy-pants meals every night and that's just not the case. Regardless of  my profession, we're still a family and a busy one at that (who isn't, right?). So weeknight meals need to be fast, filling and something that I know everyone will enjoy because I don't have the time or patience to make multiple meals. On any given weeknight, I only really have a few minutes to prepare dinner so simplicity is key.
Something I make for my family once a week is breaded pork chops. It couldn't be simpler: pork chops, eggs, seasoned bread crumbs and olive oil.Five ingredients and 20 minutes is all you need to make these juicy pork chops. Give them a try and I just know you'll be adding them to your weeknight repertoire.
Baked Breaded Pork Chops
Serves 4
Ingredients:
4 (1-inch in thickness) bone-in center cut pork chops
3/4 cup seasoned bread crumbs
2 eggs, beaten
2-3 tablespoons olive oil
Instructions:
1. Preheat oven to 400 degrees.
2. Dip pork chops into beaten eggs and then press into bread crumbs until they are fully coated. Heat olive oil in a large oven-safe skillet. Gently lay pork chops into the oil and cook for 3-4 minutes or until breadcrumbs are lightly golden. Using tongs, flip pork chops to the other side and place entire skillet into the oven. Cook for 20 minutes. Remove pan from oven and place pork chops onto a cutting board to rest for a couple of minutes before plating and serving alongside you favorite starch and vegetable. Enjoy!