So Good For Breakfast – You Can't Eat Just One
Okay, we are not a recipe website!  We do baby gear.  Baby – Gear – all – the – time!  BUT after eating my fabulous Sunday breakfast, I just had to share the recipe.  If you have never had a Pumpkin Chocolate Chip Muffin, you should!  You are missing out and they are decadent!  Plus, they are very festive for this time of year.
I just want to say, I am not a huge pumpkin pie fan.  Love desserts but can easily pass on a piece of pumpkin pie.  Just not my absolute favorite.  Pumpkin Chocolate Chip Muffins are a whole different story.  One of those things that you can't just eat one!
Are they good for you?  Of course not!  But sometimes you have to splurge and have what is basically a cupcake for breakfast.  Well, actually it could be good for you?  It contains lots of pumpkin.  And pumpkin is a fruit.  Fruit is good for you.  So, you are having a fruit muffin.  I like to call it a muffin and not a "cupcake" because muffin also sound healthier!
Here is the recipe that I use (of course, there are millions of other versions online!) and I'm sorry to say I have no idea where I got it from.  I have the recipe hand-written on a crumpled piece of paper that is stained from years of baking over it.  Enjoy!
PUMPKIN CHOCOLATE CHIP MUFFINS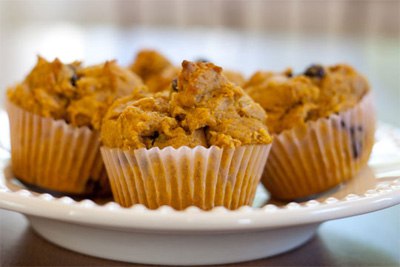 3-1/3  cups of all-purpose flour
1-1/2 cups sugar
2 tbsp pumpkin pie spice
2 tsp baking soda
1 tsp baking powder
1 tsp salt
4 eggs, lightly beaten
2 cups plain canned pumpkin
1 cup butter, melted
1-1/2 cups chocolate chips
Preheat oven to 350 degrees.  Thoroughly mix flour, sugar, pumpkin pie spice, baking soda, baking powder and salt in a large bowl.  In a smaller bowl, mix together the eggs, pumpkin, and butter.  Blend well.  Stir in the chocolate chips.  Pour this mixture into the flour mixture and fold in with a spatula until just moistened.  Spoon into greased muffin pans (or use cupcake liners) and bake for 25 minutes or until a toothpick comes out clean.  Makes 12 large muffins.