Apple Turkey Sliders and Cinnamon Honey Carrots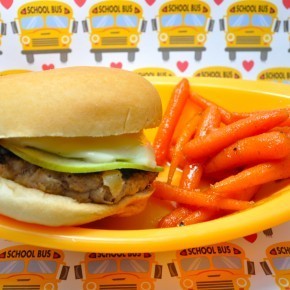 Apple Turkey Sliders and Cinnamon Honey Carrots
Summer is almost over so you are either pulling all your hair out with the kids at home, picking up school supplies or trying to squeeze in one more beach day.  I completed my son's long school supply list after visiting 3 stores, you would think he was going off to college with the supplies he needs! He is attending first grade full time this year and he now has the option to purchase school lunches. After reviewing the list of lunch options, I think I will probably pack his lunch until he goes off to college!
My son would eat a cheeseburger every day for the rest of his life if I let him.  So I am always trying to come up with a healthier versions of an old classic hence the apple turkey slider. I tried to make turkey sliders before and they came out dry.  That's when I came up with the genius idea of adding applesauce.  I add applesauce to brownies why not turkey, I thought! They came out delicious and moist…if I dare say so myself. My little burger connoisseur loved them!
I added thinly sliced green apple on top to give the burgers a nice little crunch.  Instead of french fries, I made honey glazed carrots. They will not miss the fries after eating these carrots….my husband even ate them…remember my third child…LOL! I was able to get 12 sliders out of 1 pound of ground turkey meat. I made all 12 and put the rest in the freezer for other  lunch days.  Pack this meal in a thermos so your child can enjoy a hot lunch. The key to making a good yummy healthy lunch is making several at once and freezing the rest for other days. I hope you have a wonderful first day at school this year with your little one!
APPLE TURKEY SLIDERS
1 Pound of Ground Turkey breast
1/2 cup of unsweetened chunky applesauce
1 teaspoon of garlic powder
1 teaspoon of onion powder
1 teaspoon of worcestershire sauce
1 teaspoon of salt and pepper
1 Package of mini slider buns
American cheese
Granny smith apple finely sliced
CINNAMON HONEY GLAZED CARROTS
1 Bag of baby Carrots
1/4 cup of honey
1 teaspoon of cinnamon
METHOD:
SLIDERS:
1. In a bowl combine all the ingredients.
2. Using a 1/4 cup measuring cup portion meat and form into sliders.
3. Cook the sliders 3-4 minutes per side until browned and cooked completely.
4. Top each slider with apple slices then with cheese.
CINNAMON HONEY CARROTS:
1. Boil carrots in just enough water to barely cover them for 4-5 minutes until slightly tender.
2. When almost all the water is gone add the honey and cinnamon to glaze the carrots.
* Freeze left over sliders and carrots in individual portions to have on hand for other lunches.