Mac Attack (Also Known As Homemade Mac 'n Cheese)
Don't get me wrong, I'm no Kraft or Annie's hater. Those macs have their place in my life (and on my pantry shelf), but nothing beats a bowl of homemade mac 'n cheese straight from the oven. With a smooth roux, fun pasta shapes and crunchy bread crumbs I'm pretty much in comfort food heaven. Whenever I go home it's always my first meal request and it has become my daughter's too. My mama whips it up as we visit in the kitchen and as my daughter sits down with a purple bowl full I can always count on hearing "more" … usually before I sit down for my first bite. Such is the life of a mama though, can I get an "amen"?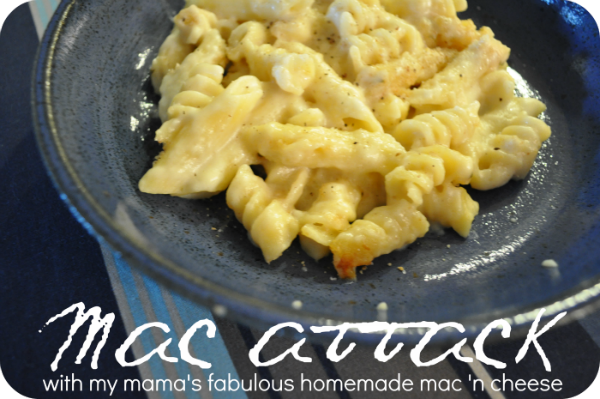 HOMEMADE MAC 'N CHEESE
Ingredients
3 tablespoons butter
3 tablespoons flour
1-2 cups of milk
2 cups cheese blend (mozzarella, Fontina and Parmesan are my favorite blend, but white cheddar turns out fabulous too!)
12 ounces of pasta
1/2 cup Italian bread crumbs
Directions
Boil pasta noodles according to box directions.
While pasta is cooking start your roux which is the fancy French term for sauce base. Melt the butter in a large saucepan. Sprinkle in flour, one tablespoon at a time, stirring to make a butter paste. Brown the paste a little. Add milk, 1/2 cup a time, stirring constantly until the sauce reaches desired consistency. Add cheese and stir until fully incorporated. Boom! Sauce is done.
Drain pasta and add to cheese sauce.
Pour everything into a baking dish, sprinkle with cheese and bread crumbs.
Bake at 350 degrees for 20 minutes.
Think plain ol' bread crumbs are boring? Me too! Stay tuned for a super easy recipe for homemade croutons that double as mac 'n cheese bread crumb topping.