Chex Muddy Buddies Brownies
You already know how I feel about peanut butter and chocolate. It's a match made in food heaven. These brownies that I came up with this past weekend are just another tribute to that magical combination.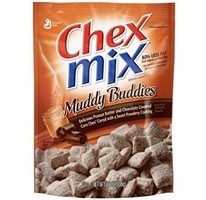 When grocery shopping recently, I came across a bag of Chex Muddy Buddies. Now, I know you can make Muddy Buddies mix (otherwise known as Puppy Chow) easily from scratch but I had no idea that I could buy it prepackaged in the chip aisle. As soon as I saw this glorious concoction, I knew I had to bake with it. Add chocolate peanut butter crunch to something that is already fabulous.
Brownies! That is what needs a little crunch!
After debating a few combinations, I came up with this fantastic brownie concoction that also adds in some thick peanut butter frosting. You can use box mixes (yes, I cheated and used a box and pre-packaged Muddy Buddies mix) or make the brownies and muddy buddies mix from scratch but either way, it ends up being the most delicious, rich dessert ever.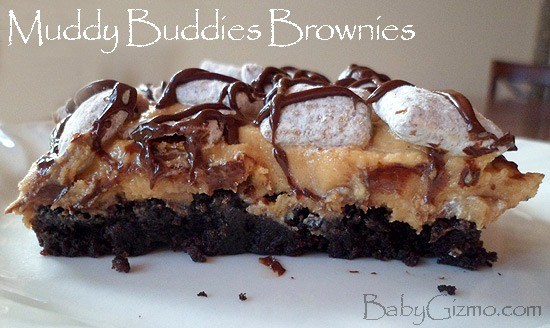 Muddy Buddies Brownies
Brownie Layer:
Brownies (mix or from scratch)
Brownie ingredients
Peanut Butter Frosting:
1/2 cup (1 stick) butter
1 cup peanut butter
1 1/2 cup powdered sugar
Topping:
Chex Muddy Buddies (10.5 oz bag)
1/2 cup melted chocolate
Preparation:
1. Preheat oven to 350 degrees. Grease 13×9 inch baking pan (or 11 x 7 for thicker brownies).
2. Prepare brownies according to box (or make your own). Pour brownies into prepared pan and bake for 19-23 minutes.
3. While brownies are baking, prepare peanut butter frosting. Cream the butter and peanut butter until smooth. Slowly blend in powdered sugar.
4. When brownies are baked and completely cooled (about 1 hour), frost with the peanut butter frosting. Sprinkle frosting evenly with entire bag of Chex Mix Muddy Buddies mixture.
5. Drizzle melted chocolate over the top of the brownies. Cut into squares and dig in.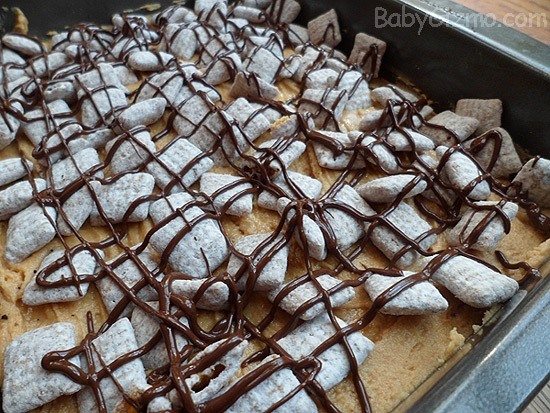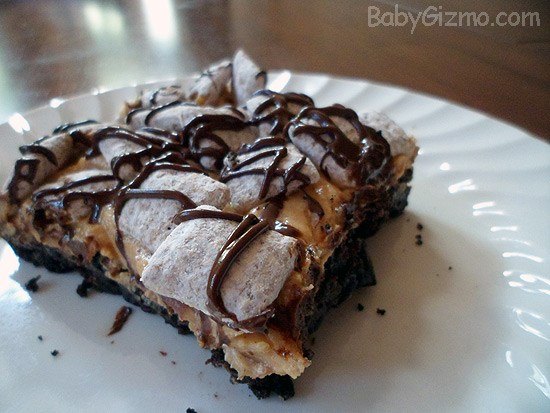 If you like this recipe, why not PIN it?! Also, don't forget to follow us on the Baby Gizmo Facebook Page for more recipes, reviews and travel!