This weekend was Memorial Day which meant we headed out of town to hang with family. You know what that means – BAKING! Since I arrived at my dad's house with delicious homemade cookies in hand, I wanted to make something different while I was there. I wanted to make something light, summery and possibly lower in calories than the fattening cake, brownies and cookies that I am constantly making for them.
Berries fit the bill for all my requirements. Strawberries, blueberries and raspberries just scream summertime to me. Now, don't get me wrong, this is not "diet food". You add sugar and flour to this recipe and it's really not complete without a big scoop of ice cream on top, but it's healthier than cookies or brownies for sure!
If you are looking for a great dessert or snack to serve this summer, you have to try this Three Berry Crisp! You can always add other berries and make it 4 or 5 Berry Crisp but I just had the three on hand. Also, you can make it in one baking dish or divide it up and cook it in individual dishes to make it a bit fancier.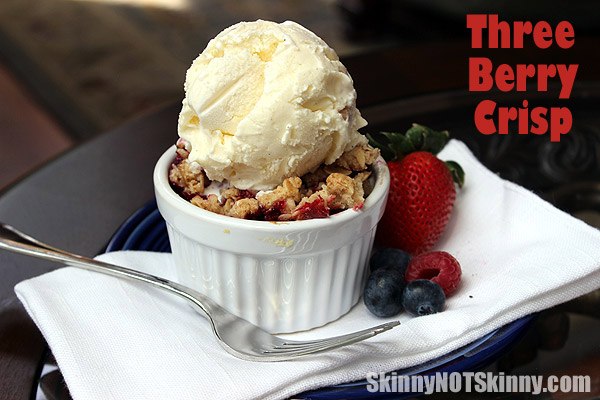 Ingredients –
Topping
1 cup quick-cooking or old fashioned oats (not instant)
1/3 cups sugar
1/3 cups all-purpose flour
1/4 teaspoons ground cinnamon
1/4 teaspoons salt
5 tablespoons unsalted butter, chilled and cut into small pieces
Filling
3 cups Strawberries
2 cups Blueberries
2 cups Raspberries
3 tablespoons sugar
2 tablespoons all-purpose flour
1/4 teaspoons ground cinnamon
Directions –
Preheat oven to 375ºF. Lightly butter 10 individual oven-safe bowls OR an 8 x 8 inch OR 2-quart glass or ceramic baking dish.
Wash all the fruit and hull and quarter cut the strawberries.

Combine strawberries, blueberries, raspberries, 3 TBSP sugar, 2 TBSP flour and 1/2 TSP cinnamon in a large bowl. (NOTE: You could add blackberries too if you like them!) Evenly divide the berries between bowls or transfer to prepared baking pan.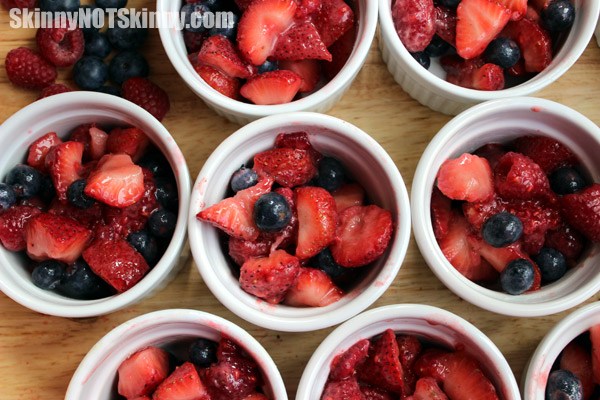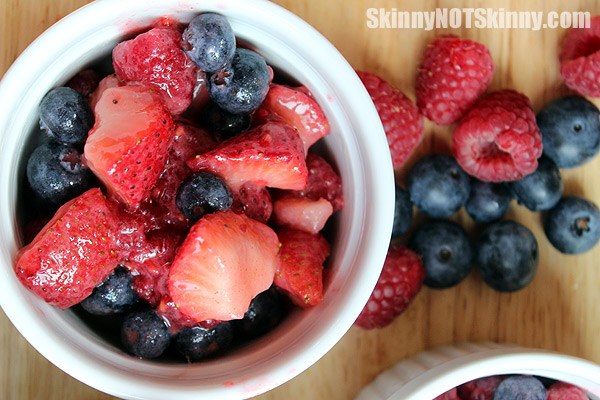 Topping
Mix oats, sugar, flour, cinnamon and salt in a large bowl. Add butter and work into dry ingredients with a wooden spoon or pastry cutter until mixture is crumbly. Sprinkle oat mixture evenly over berries.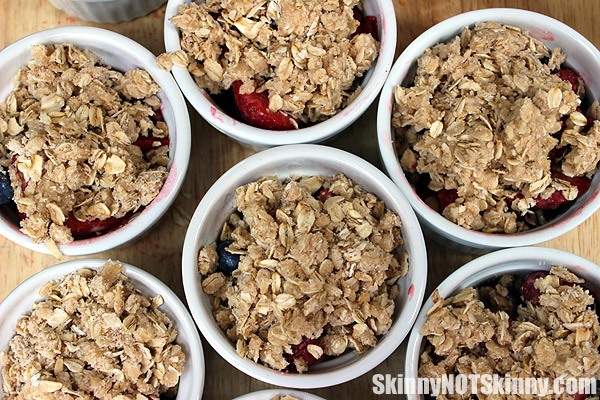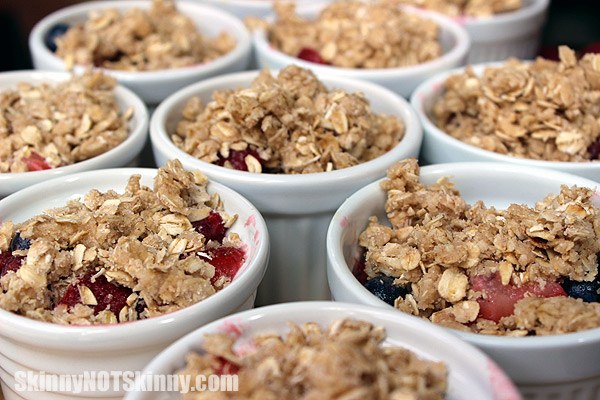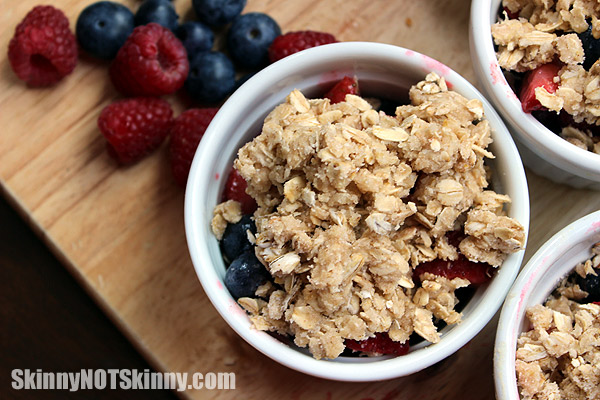 Bake 35 to 45 minutes for baking dish (or 20 – 25 minutes if individual bowls!) or until berries are bubbly and topping is lightly browned and crisp.