Today I'm sharing a delicious, fresh recipe for vegetarian pasta salad. The weather is starting to warm up here in southern California and I love this recipe for outdoor picnics, pool days, and warmer weather. It's so refreshing and delicious, and it's healthy, too! This recipe can easily be modified for vegans by skipping the cheese and if you're a meat eater, throw in some chicken!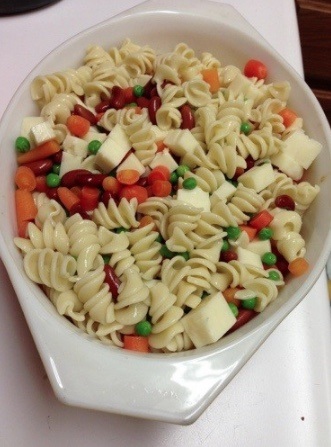 Ingredients-
1 package of pasta. I used spiral.
1 can of kidney beans
1 package of frozen peas
1 block of mozzarella cheese
1 small package of baby carrots
Your choice of dressing. I love Roasted Red Pepper by Kraft for this particular recipe. It goes great!
Directions
-Boil your pasta in boiling water until it is completely cooked. While that's going you can do all the other steps.
-Cube your cheese.
-Open up your can of kidney beans and put them in a bowl. Make sure they are drained.
-Take your frozen peas out of the freezer.
-Chop your carrots. I like to boil my carrots just a little while so they still have a slight crunch but don't break your teeth.
-Once your pasta is completely cooked, run cold water on them until they are cold.
-Mix everything together and you're done! How easy is that?! If you're bringing this to a party or something, go ahead and toss your dressing in. If you are just making this for your family and think you will have leftovers, I personally like to leave the dressing off. Then once I dish everyone up each day I toss the dressing on each bowl. This keeps everything from getting soggy.
I hope you are all able to try this delicious recipe! It's so easy and is the perfect recipe to get your kids in the kitchen to help you with!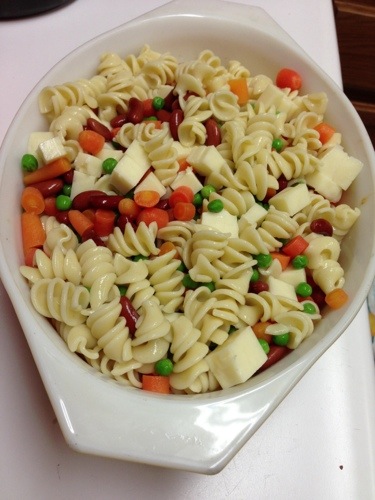 Recipe: Vegetarian Pasta Salad
A delicious recipe perfect for the warmer weather that is nearing.
Ingredients
1

package of pasta. I used spiral.

1

can of kidney beans

1

block of mozzarella cheese

1

packgage of baby carrots

1

package of frozen peas

Dressing of your choice. I like Kraft's roasted red pepper dressing.
Instructions
Boil your pasta

Cube your cheese and chop your carrots.

Take the peas out of the freezer.

Drain the kidney beans.

Once the pasta is cooked, drain it and mix everything together.