I won't go as far as to say that I'm making a goal to lose weight in 2013, but there are some baby pounds I may or may not being striving to get rid of. Ideally I'll do this through some kid-friendly exercise (swift walks with the stroller and family yoga, anyone?) and a boost in some healthy menu planning.
First on the menu … Skinny Taco Soup. A yummy blend of healthy, low cal ingredients that will help us all shed a few pounds in January.
I pulled this delish recipe from the archives of my cookbook this week in preparation for the soon-to-be-slender me. It's from one of my dearest friends whom I consider my resident health nut. Consider it a bonus that it's made in a blender … does it get any easier than that? I think not.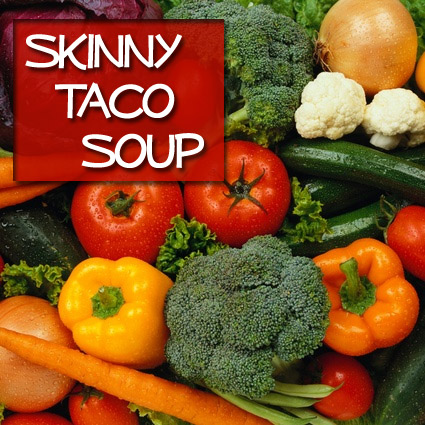 SKINNY TACO SOUP

Ingredients
2 Roma tomatoes
1 stalk celery
1 thin slice of onion
2 carrots (or a handful of baby carrots)
1 clove garlic
1/2 packet of taco seasoning
Various other veggies: peppers, squash, cabbage, etc.
Directions
Wash, peel, dice, and prep each veggie
Add everything to a blender (I have an antique Vitamix and can't even begin to tell you how much I adore it!) and puree with 3 cups of boiling water
Pour into bowls and enjoy plain or portion out a few goodies (corn, cheese, olives, chips, or sour cream) to fancy it up