Peanut Butter Chocolate Chip Banana Bread
As I have mentioned before, I did a lot of baking over the holidays. Cake, cookies, bars and now bread. To be fair this is what I would consider "dessert bread". It's not your typical sliced bread that you throw some lunch meat on and call it a day. This is a decadent, rich, moist bread that is loaded with banana, peanut butter and chocolate which should be lovingly sliced and enjoyed one bite at a time. If Elvis was still around (and maybe he is, we don't know!), he would love this bread. Wasn't he the King of Peanut Butter and Banana?!?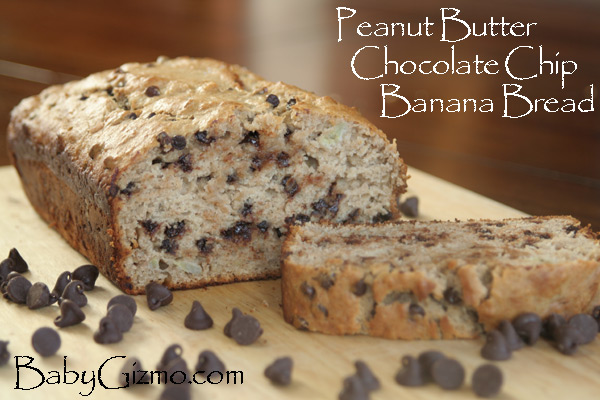 I'm a big fan of banana bread. It's the perfect way to unload some of those not so fresh bananas on your counter that the kids won't touch with a 10 ft pole.
Them: Ewww…they have brown spots on them. We can't eat those.
Me: Just eat the banana, it's fine.
Them: No way! They aren't even really yellow anymore. Aren't bananas supposed to be yellow and not brown?!?
Me: Okay, I'll make bread. Sigh.
When I arrived at the grandparents house for the holidays, there were some ripe bananas calling my name. Grandma tried to pass them off to the kids for breakfast but as she got the same response as above, I laughed (because it was her and not me this time!) and grabbed my iPad to access my Pinterest boards. I knew that I had saved a banana bread version that I was dying to make and this was the perfect time.
*Note: The original recipe calls for 3/4 unbleached flour and 1/2 cup whole wheat pastry flour. I only had regular unbleached white flour so that is what I used and it worked just fine!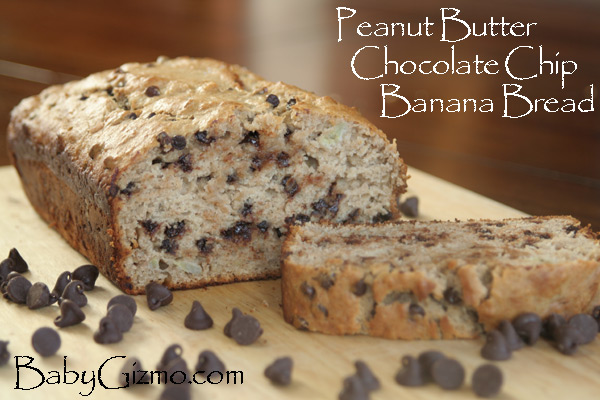 Peanut Butter Chocolate Chip Banana Bread
Ingredients
1 1/4

cup

flour

6

tablespoons

white sugar

6

tablespoons

brown sugar

packed

1

teaspoon

baking powder

1/2

teaspoon

baking soda

1/4

teaspoon

salt

3

medium very ripe bananas

mashed

1/3

cup

crunchy peanut butter

creamy works too!

2

tablespoons

plain fat-free yogurt

1

large egg

1

teaspoon

vanilla

2

tablespoons

canola oil

3/4

cup

mini semi-sweet chocolate chips
Instructions
Preheat oven to 350 degrees F. Coat 9X5 inch loaf pan with cooking spray; add a strip of parchment paper to bottom of pan for easy removal.

Combine flour, sugar, baking powder, baking soda, and salt in bowl.

In another bowl or bowl of mixer, mix bananas, peanut butter, yogurt, egg, vanilla, and oil. Fold in flour mixture until no streaks of flour remain, then gently fold in chocolate chips. Don't overmix!

Scrape batter into loaf pan. Bake 40-50 minutes, or until toothpick comes out with few moist crumbs. Cool in pan on wire rack 15 minutes; carefully remove from pan and allow to cool completely on wire rack.