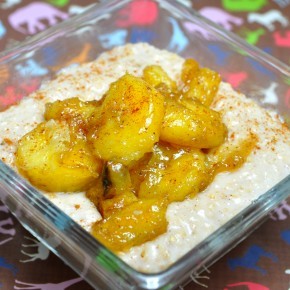 We love eating oatmeal in our house. I usually just make plain oatmeal then let the kids add fruit or nut-free granola. With this recipe I married my two of my favorites – bananas foster and oatmeal. The whole family just gobbled this recipe up! What's not to love about dessert and breakfast in the same bowl!
Don't worry I didn't add the rum that is usually in bananas foster recipe. (I may make a grown up version next time for mom and dad though). I also didn't add a pound of sugar to make a caramel sauce. I added just enough sugar to get a nice caramelization on the bananas then topped the oatmeal with these little yummy sweet banana chunks.
This recipe would be a nice treat to switch up breakfast on any weekday or weekend.
Ingredients:
4 cups of milk
1 cup of oatmeal
1 tablespoon of cinnamon
1/4 cup of honey or brown or brown sugar
2 bananas sliced
2 tablespoons of brown sugar, honey or 100% maple syrup
Method:
1. In a pot simmer oatmeal, milk, honey and cinnamon until oatmeal is soft.
2. In a separate pan melt butter and add sliced bananas cook 2 minutes then add sugar until bananas are caramelized then add cinnamon last 2 minutes of cooking.
3. In a bowl pour about a cup of cooked oatmeal top with caramelized bananas.