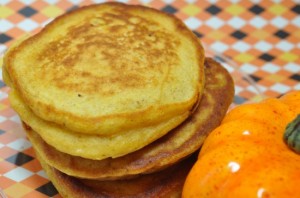 I am in love with everything about the fall season and pumpkins! I love this time of year and I especially love all things pumpkins – carving, baking and eating.  I warned everyone that there was going to be a lot of pumpkin recipes this month here is recipe number three and there are more to come!
We love pancakes at our house.  I have to admit I make a pretty delicious batch of light and fluffy pancakes. It is by far the most requested breakfast at our house. The secret is to separate the batter between wet and dry ingredients and do not over mix. Pancake batter just needs to be combined. You don't need to whisk it until it is perfectly blended. Perfectly blended pancakes make perfectly tough pancakes so be gentle with the batter and it will love you back with fluffy light pancakes.
Pumpkin pancakes are a great way to introduce pumpkin to kids' diets because it is loaded with vitamins and antioxidants. You can also add chocolate chips or walnuts to the batter to make them extra yummy.
Ingredients:
1 cup flour
1/2 cup of pumpkin puree
1/2 cup of buttermilk or milk
1 teaspoon of baking powder
1/2 teaspoon of baking soda
1/2 teaspoon of pumpkin pie spice
1 egg
2 tablespoons of butter
Method:
1. Combine dry ingredients flour, baking powder, baking soda, pie spice.
2. In a separate bowl combine wet ingredients buttermilk, pumpkin puree, egg.
3. Add wet ingredients to dry ingredients.
4. Heat butter in a pan and using a 1/4 cup pour batter and cook pancakes for 3-5 minutes until golden brown then flip over.