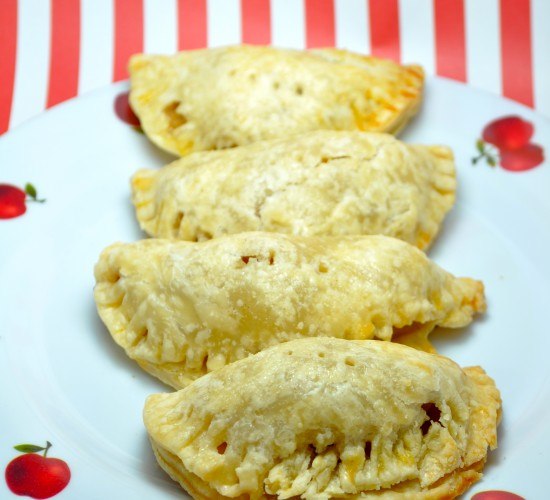 How about a handheld apple pie? This recipe is super simple because I used a store bought pie crust to save myself time so I can eat these little yummy pies sooner! Summer is here so I love going to the Farmer's Market and picking up the freshest local produce available. I picked up these apples on our last trip and immediately thought of apple pie but I didn't want to make a big one. So I tried mini pies and they were even more delicious.
I like using gala apples I find them sweeter but you can use whichever apples you like. Handheld pies are easier to eat, make and everyone loves them! Next time you are at a local farmers market think about what you would like to stuff your pie crust with. I may try mini blueberry and strawberry pies next time and let you know how they come out.
Hope you enjoy our mini apple pies!
Ingredients:
3 Apples cored, peeled and cut into small pieces
2 pie crust for 9″ pies the type you can roll out flat
1/4 cup of brown sugar
1 teaspoon of cinnamon
1/4 teaspoon of nutmeg
2 tablespoons of butter
egg wash (1 egg beaten with 1 tablespoon of water)
Method:
1. Place apples in a bowl and toss with brown sugar, cinnamon and nutmeg.
2. Melt butter in a pan and add apples cook for 10 minutes until soft.
3. While the apples are cooking cut out the pie crust.
4. Roll our the pie dough and using a small bowl cut out eight circles.
5. Fill each pie circle with 1 teaspoon of apple pie filling and seal the edges with a fork to close the crust.
6. Brush dough with egg wash and bake at 375 for 15-20 minutes until golden brown.