Balls from Heaven (Recipe)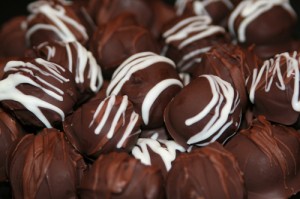 Nope this isn't about baby gear!  But, hey, it's a holiday week and I wanted to share a little slice of heaven that I like to make for the holidays!  Some may call these "Oreo Balls" or "Oreo Truffles" but I like to call them "Balls from Heaven".  Classy name, isn't it?!? I'm not sure where the original recipe is from (possibly Ms. Crocker, the Pillsbury family or maybe straight from Nabisco) so I'm going to give a shout-out to all the fantastic recipe-makers out there.  Now to the balls!
These Balls from Heaven are A-M-A-Z-I-N-G!  Seriously, my go-to dessert for holiday parties, cookie exchanges or any time a fantastic treat is necessary.  The best thing about this recipe (besides being absolutely delicious!) is that it is so easy to make yet looks like you spent so much time on it.  Hint: Great dessert to take to your mother-in-law who likes to judge that you aren't doing it like her!  Just sayin'.
I just made these tonight to take to my Thanksgiving family party!  Believe me, you won't be disappointed with these but don't expect to stay on your diet when they are in the house.
What you need:
1 package regular size Oreo cookies, crushed
1 (8 ounce) package cream cheese, softened
½ cup white chocolate chips (or dark chocolate)
1 package semi-sweet chocolate chips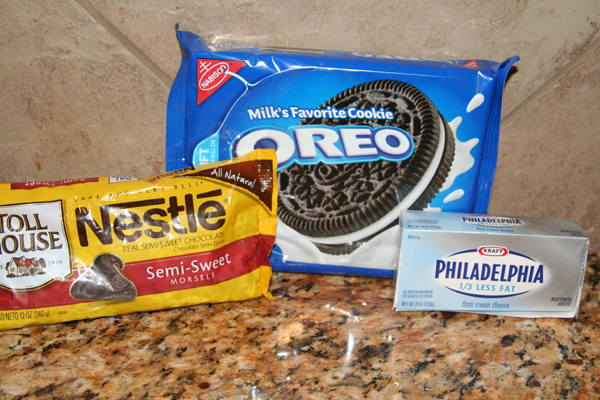 Directions:
1.  Crush the Oreos with a food processor.
2.  Mix Oreos and cream cheese together with a blender.
3.  Roll into walnut size balls and place them on a wax paper covered plate or pan.
4.  Freeze for at least an hour.
5.  Melt the semi-sweet chocolate chips in the microwave.
6.  Stick a toothpick in an Oreo ball and dip it in the melted chocolate.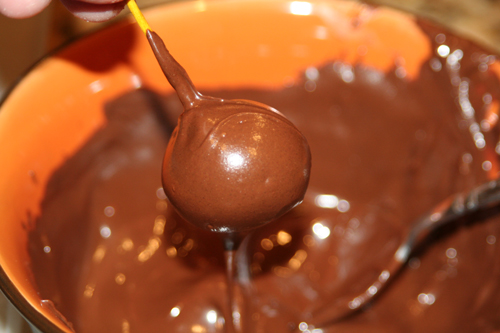 7.  Place ball on wax paper and gently remove the toothpick.  Cover the toothpick hole by smearing the chocolate lightly with a spoon.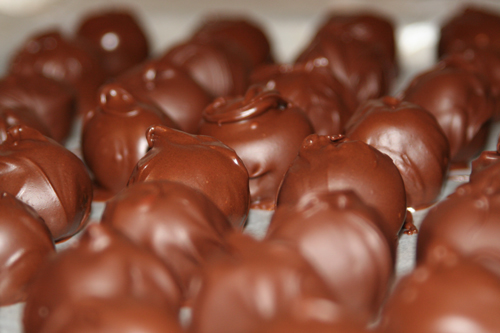 8.  After all the balls are dipped, melt the white chocolate chips (or dark chocolate if you prefer)
9.  When Oreo balls are no longer sticky to the touch, decorate with drizzles of melted white (or dark) chocolate.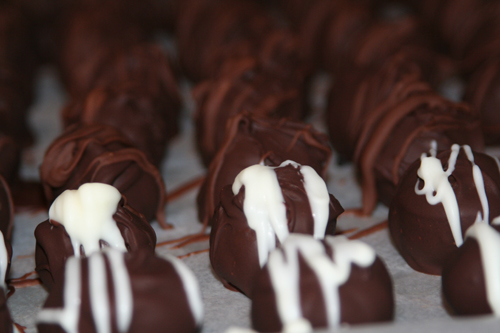 10. Chill or freeze until chocolate is set.