Making Baby Food at Home: Storage Solutions for Purees
If you have mastered the basics, tried out the gadgets and found baby's favorite recipes, you are well on your way to being your baby's full time chef.  There's just one more step: storage!  Luckily, most purees will freeze beautifully, and, if done in small portions, will reheat quickly for fresh and easy feeding.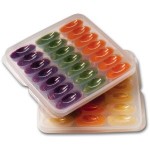 When choosing a storage solution, take into account your freezer space – do you have space for larger trays, or will small containers need to be tucked in among the rest of your meals?  Does your baby still eat small portions, or are they already eating a few ounces at a time?  Small containers can be mixed together for interesting combinations, or larger containers can hold a full baby meal.
Check out these options for freezer storage that can help keep baby's food tasty and fresh:
Fresh Baby So Easy Breast Milk and Food Trays – Freezes breast milk or purees in small cubes for easy  and fast reheating, with a snap-on lid.
Oxo Tot Baby Blocks Freezer Storage Containers – Available in 2– and 4-ounce sizes, with a tray to help stack the plastic containers.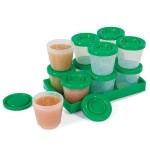 Mumi and Bubi Solid Starter Kit – Easy-out 1 oz. cubes in stackable trays.
Fresh 'n Freeze – Stackable individual 2 oz. containers with lids.
Vital Baby Press and Pop Freezer Pots – These nifty containers have a silicone "soft spot" to help press the frozen cubes out.  Available in 1 oz. or 3 oz. size.
A basic ice cube tray is always an option, but make sure you have way to cover them to prevent freezer burn or contamination (Glad Press and Seal Wrap works well!).  Another budget mom trick: try a silicone "brownie bite" pan, which makes the perfect size cubes for early solids.  Don't freeze in a jar unless you are sure the jar is freezer safe – not all glass can be frozen safely.  If you do use ice cube trays, just move frozen-solid cubes into a large freezer zip-top bag to free up your trays for the next batch.  Frozen purees can be kept for up to three months, so go ahead and make a big batch!
You're all set!  With just a little planning and some basic supplies, you can make your baby the freshest food available right at home in your own kitchen.  Go ahead and give it a try!