Making Baby Food at Home: Recipes That Go Beyond The Jar
Making your baby's food at home is easier than ever with basic supplies or more high-tech gadgets.  But after you try some simple fruits and veggies, what else can you make?  Just because the jars and pouches use a small variety of fruits, veggies and grains doesn't mean that's all your baby can handle.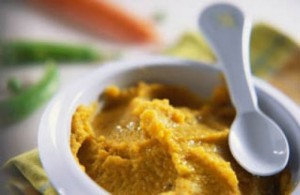 There are a variety of spices that babies tend to tolerate well.  Adding a little cinnamon and nutmeg to squash or ginger to banana mush can make a bland food more interesting for baby's taste buds.  Mix and match your baby's favorite foods with vanilla, garlic, cinnamon, basil, rosemary, dill, oregano, lemon zest, ginger, mint, rosemary, cardamom, nutmeg, or anise.  Adding spices and extra flavors early in your child's diet can help to expand their palette and may prevent some picky-eating later on.  As with all new foods, refer to your child's pediatrician for allergy or sensitivity concerns.
Are you and your baby ready for more than just spices?  Baby food cookbooks have recipes, ideas and tips for making fresh, wholesome and nutritious food that you will never find in a jar!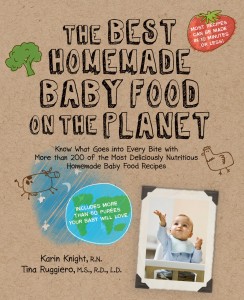 Top 100 Baby Purees: 100 Quick and Easy Meals for a Healthy and Happy Baby by Annabel Karmel
The Best Homemade Baby Food on the Planet: Know What Goes Into Ever Bite with More Than 200 of the Most Deliciously Nutritious Homemade Baby Food Recipes by Karin Knight and Tina Ruggiero
Cooking for Baby: Wholesome, Homemade, Delicious Foods for 6-18 Months by Lisa Barnes
The Best Homemade Baby Food Ever: 150+ Nutritious Recipes by Sandra Johnson and Alexis Oconnel (Kindle E-book)
Want more?  Check out these great resources for creative, interesting and delicious recipes for widening your baby's palette.
Wholesome Baby Food
 Homemade Baby Food Recipes
 Baby Food 101
Once you have a few new recipes figured out, look for our next article on how to store and freeze meals for baby.  Don't miss it!