I love the 4th of July.  It has always been my favorite holiday.  Cook-outs, family and friends, and fireworks — what's not to love?!
Even as an adult I get excited for the 4th.  But now rather than stuffing my face with the food other people make for me, I stuff my face with food that I make for other people.  There are TONS of great recipes to make for cook-outs at home or at someone else's house, but there are a couple in particular that will wow your friends and family while pleasing your kids.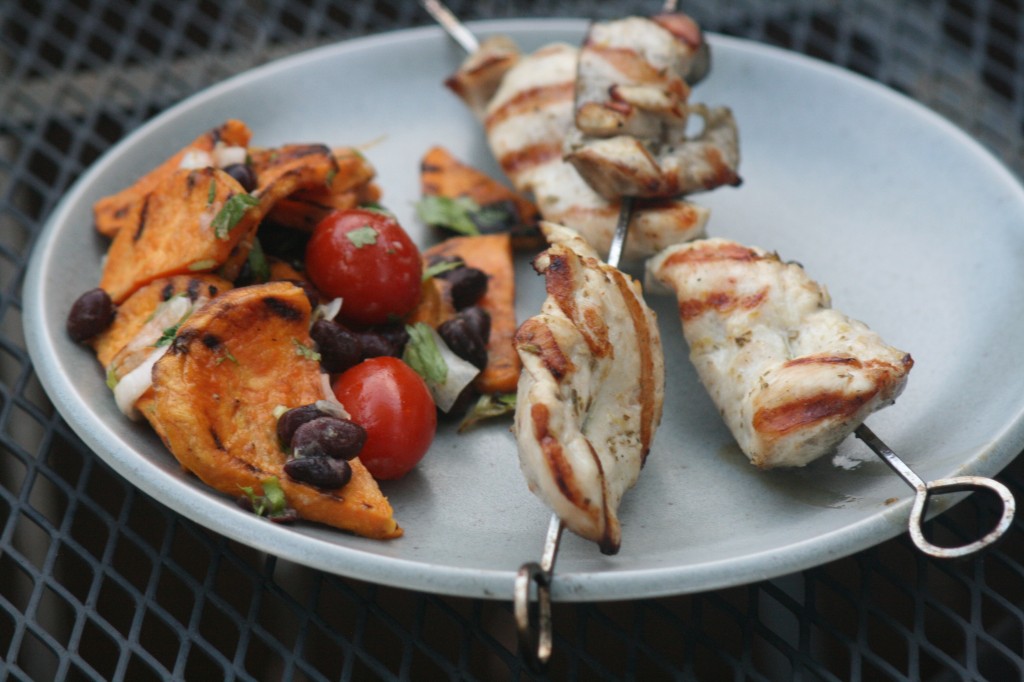 First up… Chicken skewers.  I don't like to make chicken kabobs because the veggies are always cooked before the chicken is done.  I think it can be risky with something like chicken that has to be cooked all the way through.  So, I go with skewers.  What kid doesn't love food on a stick??
Lemon Rosemary Chicken Skewers
1 lb boneless skinless chicken breasts cut into long pieces OR 1 lb boneless skinless chicken tenderloin
1/4 cup lemon juice (about 2 lemons) and the zest of 2 lemons
1/4 light cooking oil — olive oil or canola oil is best
1 tablespoon minced fresh rosemary
2 minced garlic cloves
salt and pepper
Combine the lemon juice, zest, oil, rosemary, garlic, salt and pepper in a container with a lid and shake until well combined.  (This would also make a delicious salad dressing!)  Put the chicken into a glass baking dish and pour the marinade over.  Toss to coat.  Cover with plastic wrap and refrigerate for at least 2 hours — the longer the better.  I let mine marinate for 4 hours and it was pretty lemony.  If you think of it, get this together in the morning and let it marinate all day until your party.
Heat your grill to medium heat.
If you're using bamboo skewers, make sure to soak them for at least an hour.  I used metal because that's what I have.
Thread the chicken onto the skewers.  I sort of stitched it on — in and out rather than straight through.  Grill for 5-7 minutes per side or until an instant read thermometer reads 160 degrees.
Remove from the grill and serve!  If you used metal skewers, remove the chicken from the skewer or wait until the skewers are completely cooled.  They get really hot!
Next… a 4th of July staple… potato salad!  Mayonaise-based potato salads are dangerous in the hot weather.  They go bad quickly… no one wants to make their guests sick!  Here is a delicious twist on a potato salad.
Grilled Sweet Potato Salad
2 large sweet potatoes
1 lime
2 green onions
grape or cherry tomatoes
1 can black beans
2 tablespoons roasted garlic OR 2 minced garlic cloves
cilantro or mint
olive oil
salt and pepper
Peel and slice the potatoes into 1/2 inch rounds.  Rinse and drain the black beans.
You're going to grill the sweet potatoes — nope, no need to boil first.  Heat your grill to medium-low.  Toss the potato rounds with a bit of olive oil and season with salt and pepper.  Put them on the grill and close the lid.  After 5 minutes check on them.  If there are grill marks, flip.  If not, close the lid and let them keep cooking.  Just be careful not to let them burn.  Cook the other side for 5 minutes.  Once they are done, remove and slice in half (or quarters… your choice).
Put the cherry tomatoes on a skewer.  Clean the green onions but don't remove the root yet.  Cut the lime in half. Put the onions, tomatoes, and limes on the grill.  (Limes cut-side down.)  With the tomatoes, you just want a bit of char.  If you let them go too long, they will fall apart.  For the onions, you also want some char and you want the white bulb to start to soften.  For the lime, you want some nice grill marks.
Once they are done, chop the onions and add to the bowl with the potatoes.  Add the tomatoes and black beans.  Squeeze your delicious grilled limes into a container and add the garlic.  Add a little salt and pepper and shake/stir to combine.  Pour the lime juice mixture over the potato mixture and toss thoroughly until everything is coated.  Chop your cilantro and add as much as you like.  Toss again.
Serve warm or cold.
This is a fantastic flavorful meal to enjoy with family and friends!  Garlic and citrus go so well together… plus, it is light for a hot July day but still filling enough to leave your guests satisfied.
Happy 4th!