Let's Get Crafty to Celebrate Goldie's 50th Birthday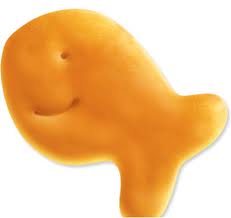 Pepperidge Farm Goldfish crackers are staple snack in our household.  We especially like the whole wheat version.  What's not to love?  Goldfish Crackers have zero grams of trans fat and can be used for many dishes, snacks, and even crafts.  They are also super convenient to travel with and easy to eat on the go.
At the Pepperidge Farm Goldfish website, kids can play games, design a goldfish, earn points, take polls and lots more. Check it out at Kids Goldfish Site
Here are some other terrific fishy ideas I found online at various other sites:
Fish Bowl Craft
Large Piece of Blue Construction Paper Green Pipe Cleaners Gold Fish Crackers Fruit Loops Glue
Cut your large piece of blue construction paper into a circle. Once you have done that cut about ½ an inch off one side of the circle. This will create a fish bowl look. Next encourage your child to glue fruit loops to the round bottom part of the circle for gravel in the fish bowl. Next glue on green pipe cleaners for plants and lastly add the gold fish crackers. **Optional purchase the rainbow gold fish crackers**
Recommendation – When doing any food craft, Show Mommy The Money's Nicole Dean (mom of 2) , recommend you spray it with hair spray to keep bugs out of it while it is on display and I also recommend you place in a zip lock bag if you plan on keeping this art work as a keepsake. Always remember a great way to preserve art is though film.
Here are some Ocean Snacks ideas from Perpetualpreschool.com
Ocean scene w/ Language
You need: 1 tortilla per child cream cheese with blue food coloring added 1 round cracker per child goldfish crackers sprouts (for seaweed)  Have each child ask for their own ingredients by providing clues (what shines in the sky during the day….what did we use?). Also talk about where you will put each item…..The water is at the bottom of the tortilla, the sun is at the top, the fish are in the water. Great activity for developing language concepts and vocabulary as well as following directions.
Gone Fishin'
Pretzel sticks the thicker ones not the thin pretzel sticks…peanut butter and gold fishes the crackers… use the pretzel stick as the fishing pole and dip it in peanut butter and then dip into a cup of goldfishes…pull it out and there you go you have gone fishing..kids love it b/c it is something interactive..food/playing= great fun
Beach Walk Snack
Pretend that you are walking on the beach and these are the things you find! In a large plastic bag or bowl, mix together the following:
pretzels (driftwood) fish-shape crackers chocolate chips (beach pebbles) chow mein noodles (seaweed) cereal (life preservers) bits of dried fruit (shells and coral) Place a handful of the seaside Mixture in little baggie for each child.
Fish Bowls and Aquariums
Tint some cream cheese light blue. Tint some vanilla frosting light blue. Let the children spread the cream cheese on the Ritz crackers and stick on a few goldfish crackers…"fishbowls"! Spread the frosting on graham squares and add goldfish (you can find them in graham flavor, too) for "fish tanks". If you are really ambitious, use colored or chocolate sprinkles on the bottom for pebbles, crushed grahams for sand or coconut tinted green for seaweed. Serve with glasses of "ocean water" (blue Kool-aid.)
Fishy S'mores
Melt marshmallows in a pan, add blue food coloring to make the "water".  Give the children a graham cracker, craft stick and some blue "water".  Have them spread and add goldfish crackers.
"Little Lobsters"
You will need a lobster cookie cutter (found at specialty cooking stores like Sur La Tabla), red or orange tortillas (sun-dried tomato flavor usually) and peanut butter or cheese for traditional quesadilla. Spread the p.b. or melt the cheese on one tortilla and top with a second, then cut out with cookie cutter. Serve on a blue round platter with a bowl of gold fish.