My First Mother's Day: Grilling Pizza as a Family
This Sunday is my first Mother's Day as a mom.  I'm pretty excited about being included in this awesome club of people who get this holiday.  How will I be spending it?  With my husband and baby.  My two favorite people.  The people who gave me this amazing title.
I grew up with a single mom.  Despite the fact that we were good kids, I know that every day was hard for her.  She never got a day off.  Even when Mother's Day rolled around all she wanted was to celebrate us – she got us gifts and we all had a special day together.  Once I learned to make cinnamon toast (my specialty until I was about 23), I would make that for her on Mother's Day.  Otherwise, she made the day about us.  She always said that without us, she wouldn't have been a mom.
My mom died when I was a teenager and I joined another family and acquired a few new moms.  So this year is especially emotional – and not in the way that you think.  It isn't sadness.  I'm celebrating my first Mother's Day as a mom; a motherless and motherful mom.   I don't want to go get a manicure or massage.*  I want to flex my mothering muscles that my moms helped me develop.  I'm an awesome mom (yeah, I said it!) and it is entirely because of what my mother showed me when I was a kid, and what my new moms showed me as they welcomed a couple of teenagers into their already rambunctious households.
To me, Mother's Day is about togetherness… maybe sleeping in a little later and then togetherness when I wake up.  But togetherness, nonetheless.  So while I could totally give you my cinnamon toast recipe for Dad and the kids to make for you this Mother's Day (recipe: toast, butter, cinnamon, sugar, nom nom nom), I'm going to give you my recipe for grilled pizza.  A recipe that everyone can make together.  What better way to celebrate being a mom than by making personalized pizzas with the family?  I certainly can't think of one.
*Ask me about this again next year when Sweet D is facing her second birthday.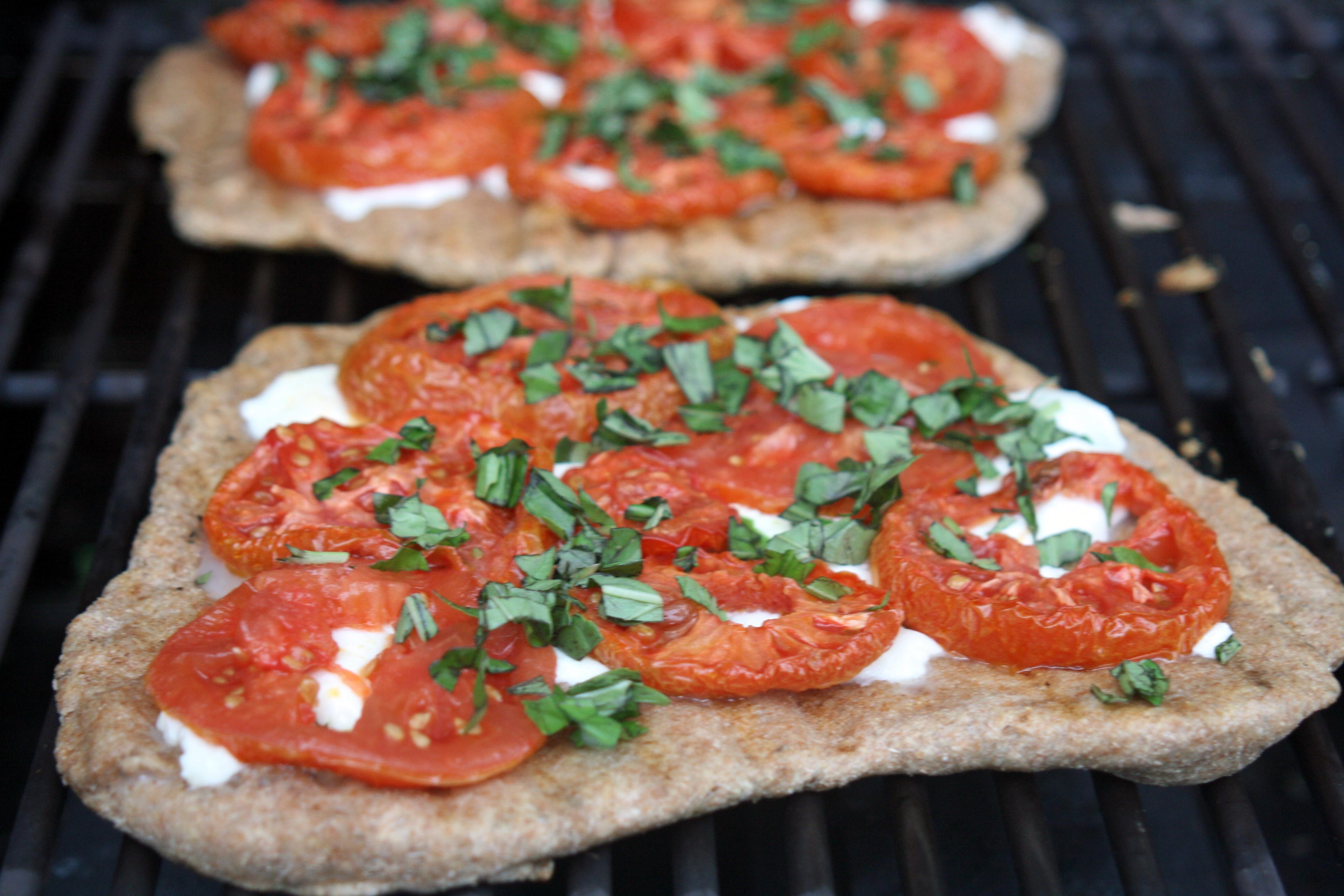 Grilled Pizza
You can totally make this in a super hot oven on a pizza stone, cast iron pan or baking sheet.  Heat the oven to like 500 degrees – 475 if 500 freaks you out.
Also another thing… make your own dough for crust.  I'm going to tell you how.  It is stupid easy; seriously.  You can make it a day ahead of time or you can make it and freeze it.  It is just too easy to rationalize spending a lot more on buying pizza dough.  Don't argue with me!
Also… (last thing, I promise)… this recipe might be a little rambley because it is more a method than a recipe.  There are a lot of tips and tangents here so stick with me.
For the crust (this makes enough for 4 adult meals):
3 cups of flour – I use either all whole wheat or split white flour and whole wheat flour.  You can also throw in some corn meal if you want.  It definitely gives it a better flavor but it makes it harder to handle on the grill.  If you're making your pizzas in the oven, go for it.
2 tsp instant yeast – that's one little packet
2 tsp coarse salt – more or less depending on your taste.  I didn't add any so I could give some to Sweet D.  Your choice.
2 tbsp olive oil
1 ½ cups of water – you may use more or less but have this much ready to go
Want to jazz it up?  Add some dried herbs or spices, or fold in some roasted garlic.  DELICIOUS!
(This recipe also makes an amazing grilled flatbread to serve alone or with dip.  I like to fold in minced roasted jalapenos and roasted garlic if I'm serving it as bread.  Get creative!)
You can use the food processor, stand mixer with a dough hook, or a sturdy wooden spoon and your hands for this.  Whatever you want.  I usually go with spoon/hands because there are fewer dishes to wash.
Mix the flour, yeast and salt.   If you're using power tools, while things are spinning add in the olive oil.  If you're not using power tools, add the oil and stir.
Add in a little water and mix/stir.  Maybe 30 seconds until it combines.  Add a little more water.  Mix/stir.  Keep doing that until you have a nice soft dough ball.  If it feels too sticky, add a little more flour.
Once it is done, knead it a bit on a floured surface.  Shape it into a ball and put it in a bowl.  I like to spread a little olive oil over the surface so it doesn't get crusty.  Cover the bowl with a towel and let the dough rise on the counter for anywhere between an hour to overnight.  The longer the better. It should double in size. I find that making the dough the night before makes the whole meal easier.  If you leave it overnight, remove the dough from the bowl and wrap tightly in plastic.  Put in the fridge for up to 2 days or freeze it for up to 2 weeks.
When you're ready to make your pizza, take your dough and put it on a floured surface.  Divide it into the number of individual pizzas you're planning to make. (Don't be a hero… big pizzas are a PAIN to handle on the grill.  Make little ones.)  Stretch the dough into a crust.  Push from the center outward – or drape over your fists and stretch gently.
Put the crusts on a baking sheet and brush one side with olive oil.
Ok, here comes the grilling part – pay attention!  Grilled pizza is super awesome and nearly fool-proof if you just follow the rules.
Heat your grill – make it really hot.  The hotter the better.
Put the crusts on the grill oiled-side down.  They cook FAST so quickly brush the other side with oil while it cooks.  Once the crust has grill marks, flip it.  It seriously takes like 1-2 minutes per side if your grill is really hot.
Remove the crusts and let everyone add their own toppings.  When it comes to grilled pizza, less is more.  More toppings makes them impossible to maneuver on the grill.
Our favorites are slow roasted tomatoes, fresh mozzarella, and basil – or smoked gouda, caramelized onions, grilled apples, and balsamic reduction.  If you prepare your toppings ahead of time, this can be a very quick meal.
Ok… pizzas are topped!  Turn the heat off on half of the grill. (If you're using charcoal, push the coals to one side.) Put the topped pizzas over the side with no heat.  You want indirect heat to just warm the toppings and melt the cheese.  The crusts are cooked, so you don't want them to burn.
Remove, slice and enjoy!
Happy Mother's Day to all you moms — and *hugs* to the kiddos who gave you the title.