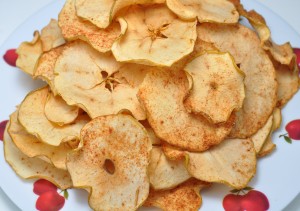 We love apples in our house! I came up with this recipe after looking at an abundant amount of apples on my counter from the farmer's market.  Sometimes the kids (okay even mom) is just craving something crunchy, so instead of reaching for potato chips, grab an apple chips.
They are super easy to make!  It's only 3 ingredients and chances are you already have them in your kitchen.  I used a kitchen tool called a mandolin to slice the apples. It slices the apples super thin and super quick, but don't worry, you could use a trusty knife and remove the seeds as you go. It's important to slice the apples as thin as possible for maximum crunch factor.
The best way to store them after they have completely cooled is in an airtight container so they remain crunchy. These apples chips make a great go-to snack for kids….shhh even adults will love them.
Ingredients:
2 Granny smith apples thinly sliced
2 tablespoons of sugar
1 tablespoon of cinnamon
Method:
1. Toss the sliced apples with sugar and cinnamon.
2. Line a baking tray with parchament paper or a non stick mat.
3. Line the apples on the baking tray in a single layer.
4. Bake at 250 degrees for 2 hours or until chips are crispy.
* Makes approximately 30 apple chips
I purchased my mandolin from Williams-Sonoma.