Brownies with Pretzel Crust = My New BFF
Okay, you know me – there are just some dessert recipes that I have to post about in between stroller reviews and extravagant nightlight posts. Remember the Chocolate Chip Cookie Dough Cupcakes and the Oreo Stuffed Chocolate Chip Cookies?  At first, I wasn't going to post this brownie recipe.  It was so good that I was going to keep it to myself.  And when I say "so good" – I mean I've made it three times in 2 1/2 weeks!  Then I got to thinking…something this good has to be shared.  It's my new, hands-down favorite dessert (of the moment!).  It's Brownies with Pretzel Crust!  Now, I like brownies but pretzel crust is totally my new BFF!  I am IN LOVE with pretzel crust.  It's pretty much pretzels, butter and sugar but it's so good that I'm thinking of adding pretzel crust to everything.  Pretzel crust lasagna?  Pretzel crusted ice cream? Prezel crust grilled cheese?  Okay, maybe that's over the line but I telling you – pretzel crust is A-M-A-Z-I-N-G!
So, let's get to the recipe!  I have to throw a shout-out to where I got the recipe!  I found it on this amazing blog that I just discovered called "Love From the Oven"!  Let me warn you though – this blog is so dangerous to your waistline that I threaten to "unlike" them every week!  The recipes are just that good!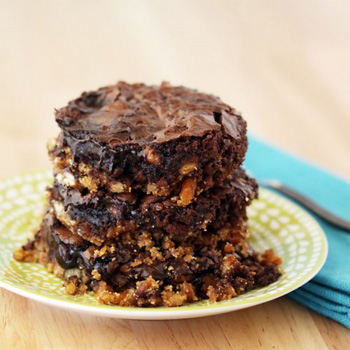 Brownies with Pretzel Crust
What you need:
Your Favorite Brownie Box Mix and all the ingredients the box calls for
Your favorite mix-ins – chocolate chips, carmel balls, peanut butter chips, nuts, candy…etc.
3 cups crushed pretzels (My suggestion: use about 2 1/4 cups of crushed Butter Prezels!)
1 cup melted butter
5 tbsp sugar
Step 1 (the pretzel crust):
Crush the pretzels in a food processor or however you like to crush pretzels. I recommend using  only about 2 1/4 cups of crushed butter pretzels (you find them next to the regular preztels and they are literally called "butter pretzels") for the recipe.  I also recommend not crushing the pretzels to dust but keep some small pieces to keep the crust crunchy.  Mix the melted butter (melt in microwave), sugar and pretzel crumbs. Press into lightly greased pan.  I would suggest using a smaller pan than a 13×9 (I like using a 9×9) because it makes for the yummiest brownie to pretzel crust ratio. Set aside pretzel crust and make the brownie batter.
Step 2 (the brownies):
Make the brownies according to the box.  Add in whatever yummy extras you would like!  Spread the brownie batter over the pretzel crust. Bake the brownies according to the package.  Try not to overcook.  It's better for the brownies to be a little undercooked than overcooked!  Let them cool (a little!) and dig in! Add a scoop of ice cream to the warm brownie and it will be your new BFF too!  So good!  And so good for you!  Oh wait…maybe not! 🙂  Let's just forget about the good-for-you thing – it tastes YUMMY!!!
Here is a link to the entire recipe with all her (Love from the Oven) glorious photos: Brownie with Pretzel Crust