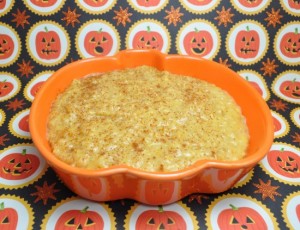 Warning!!! I have quite a few great pumpkin recipes up my sleeve for this month! If you want some recipes for pumpkin puree outside of pumpkin pie your at the right place!
Hurricane Sandy kept us home bound for a few days but luckily we had heat and electricity. We had to sit tight at home for a few days with two kids, several cans of organic pumpkin puree and a stove.  My first pumpkin recipe is quick and easy – add pumpkin puree to instant oatmeal!
Pumpkins are actually really high in vitamin A, C, E and antioxidants.  What a great way to start the day with such a delicious and nutritious breakfast! The family loves this oatmeal because it tastes like a combination of an oatmeal cookie and pumpkin pie.  If our son wasn't allergic to nuts, we'd have added crushed walnuts for extra yumminess.  You will look at your cans of pumpkin puree in a whole new way and think of breakfast!
Ingredients:
1 Package of instant plain oatmeal
2 Tablespoons of organic pumpkin puree
1 Tablespoon of honey or sugar
1/2 cup of milk
1/4 teaspoon of pumpkin pie spice
1 teaspoon of vanilla
Method:
1. In a small bowl combine all ingredients and microwave for 1:30 minutes.
* Make sure your pumpkin is pure pumpkin not pumpkin pie puree. Pumpkin pie puree is loaded with sugar and spices already.  You want plain pumpkin puree and spice it up yourself.