One of my favorite things to order at restaurants is fancy salads. The type that come with a multitude of toppings and some kind of infused dressing. These are also known as the type that I'm too lazy or too consumed with children eager for a meal to fix at home .. sound familiar?
I have mixed up one salad quite a bit lately though. I seem to get a hankering for it every spring when the weather turns. It has become my must make spring salad. Perfect for a light lunch, dinner side, girl's night in or potluck addition. Give it a try. You'll thank me 🙂
Must Make Spring Salad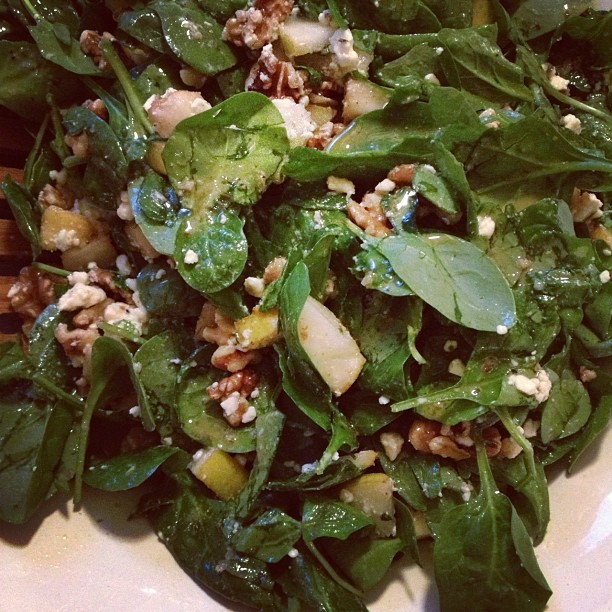 Ingredients
1 large bag baby spinach (if you don't adore spinach, you can totally use romaine or even try a 1/2 and 1/2 blend)
1/2 cup olive oil
1/4 cup red wine vinegar
1 teaspoon Dijon mustard
1 garlic clove, crushed (I love the pre-crushed, frozen option from Trader Joe's)
1/2 teaspoon sea salt
1/4 teaspoon pepper
1/2 teaspoon Italian seasoning
3 Anjou pears, sliced and diced
3/4 cup walnuts, chopped
3/4 cup feta, crumbled
Optional: grilled or rotisserie chicken
Directions
Prepare all your ingredients by slicing, dicing, chopping and crumbling.
Blend together the Romaine and spinach in a large mixing bowl.
For the dressing, whisk together olive oil, red wine vinegar, Dijon mustard, garlic clove, sea salt, pepper and Italian seasoning.
Toss the salad and dressing together and top with pears, walnuts and feta.
Turn it into a complete meal with a bit of chicken on the top or side (Many meals in our home are upgraded to "real" meals for my husband by adding some type of meat protein!)
What do you consider your signature salad? This one is definitely mine!