Cream Cheese Spritz Cookies
Back in the day I was a nanny for two sweet girls. Most days after school we found ourselves in the kitchen mixing up a treat. With the winter weather brewing outside there was nothing better than a warm oven, tasty dough, and some good ol' kitchen conversation about homework, boys, and the upcoming Christmas break. One December we stumbled upon the holiday section of an old cookbook. In its' pages we found this recipe for Cream Cheese Spritz Cookies. I wish I knew what cookbook it was, if this spritz recipe is any sign, all the other recipes must be delectable as well!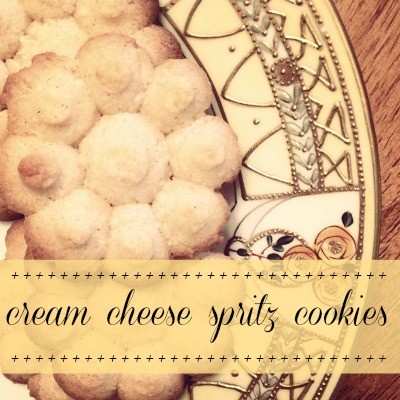 So, back to the spritzes. Over the years I've made a few modifications and tamed my cookie press. And today, I'm happy to share this must-bake cookie recipe.
Ingredients
2 1/2 cups flour
1/2 teaspoon salt
1/2 teaspoon cinnamon
1 cup butter
4 ounces cream cheese
1 cup sugar
1 egg yolk
1 teaspoon vanilla
Directions
Place your baking sheets in the refrigerator. This is a crucial step when using a cookie press. If the baking sheet is warm the cookies pull away and your pretty shapes/designs won't be pretty at all.
Preheat the oven to 350 degrees.
In a mixer, beat butter and cream cheese until well mixed. Slowly add sugar. Once incorporated, add egg yolk and vanilla.
In a separate bowl , mix dry ingredients. Slowly add into mixer until dough is well blended.
Pack dough into cookie press, following press instructions.
Press dough onto cold baking sheet, approximately 1 inch apart.
Bake for 15 minutes, or until the edges are light brown.
Remove from oven and cool on a baking rack.
Lately, cream cheese spritz cookies have been my favorite treat alongside a cup of coffee sweetened with white peppermint creamer. And, if you're short on time, feel free to skip the cookie press and just roll the dough into normal cookie balls (just add a few minutes to the bake time since they are thicker).