Peanut Butter Pretzel Ball Brownies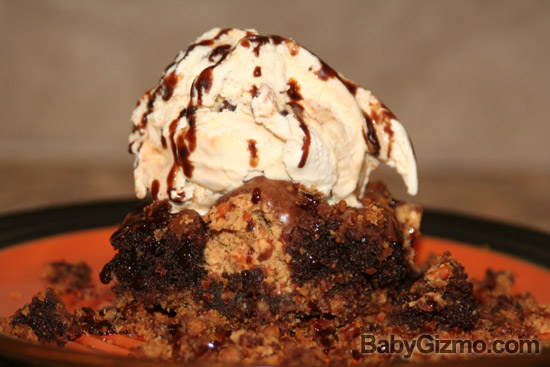 I have been experimenting with different ways to use my favorites – peanut butter, brownies and preztels. I could just pour them in a bowl and I'd be in heaven but that wouldn't be very fun, would it? So, this weekend I came up with Peanut Butter Pretzel Ball Brownies. They are delish!  It's basically a peanut butter and pretzel ball cooked in a brownie with peanut butter flavored pretzel crust. Did you catch that?!?  Not just regular old pretzel crust but PEANUT BUTTER PRETZEL CRUST!!  You just can't go wrong with this combination! It's crunchy, sweet, salty and ooey gooey all at the same time. I couldn't just put regular pretzel crust on this recipe either. I wanted to up the peanut butter-factor so I added peanut butter to the crust too. Seriously, so good!
Peanut Butter Pretzel Ball Brownies
Ingredients: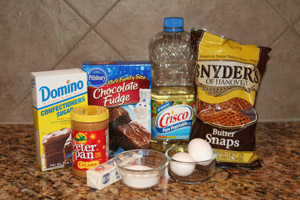 Pretzel Balls:
1/2 cup creamy peanut butter

5 tbsp powdered sugar

2 tbsp butter (room temperature)

1 cup crushed Butter Pretzels
Pretzel Crust:
3/4 cup melted butter

1/3 cup creamy peanut butter

2 1/4 cups of crushed pretzels
Brownies:
Brownie Mix (13×9 family size)

eggs, water and oil needed for brownie mix
1) Make the Pretzel Balls. Crush butter pretzels with a food processor until chopped but not pretzel dust. The more pieces of pretzel – the crunchier the balls will be. Mix creamy peanut butter, powdered sugar, butter and crushed pretzels until completely mixed.

2) Make the Balls. Roll the peanut butter pretzel mixture into 1″ balls. (You are aiming for 28 balls.) I found it easier to roll the mixture if I chilled it for about 15 minutes. After all the balls are rolled, pop the plate of peanut butter balls in the freezer for about 20 minutes while you continue on with the rest of the recipe.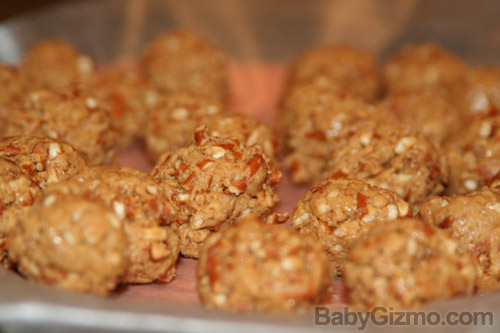 3) Make the Peanut Butter Pretzel Crust. Preheat oven to 350 degrees. Heat the 1/3 cup peanut butter in the microwave for about 25 seconds to make it melty. Crush the pretzels in a food processor or however you like to crush pretzels. Any kind of pretzels will do but I recommend using crushed butter pretzels (you find them next to the regular pretzels and they are literally called "Synder Butter Pretzels") for the recipe. I also recommend not crushing the pretzels to dust but keep some small pieces to keep the crust crunchy. Mix the melty peanut butter, melted butter (melt in microwave), sugar and pretzel crumbs. Press into lightly greased 13×9 pan. Set aside pretzel crust and make the brownies.
4) Make the brownies. Make the brownies according to the package.
5) Add the balls to the crust. Remove the peanut butter pretzel balls from the freezer and evenly place all 28 balls on the pretzel crust. Even though I didn't do it while making it this weekend, I would suggest flattening the tops of the balls to make them more of a fat saucer shape to help with the brownie coverage and spread them out a bit.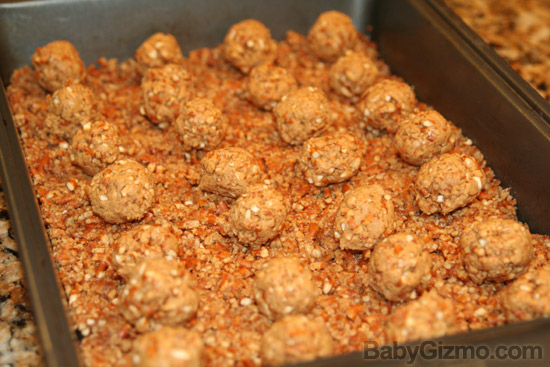 6) Evenly pour the brownie batter over the entire pan covering all the balls.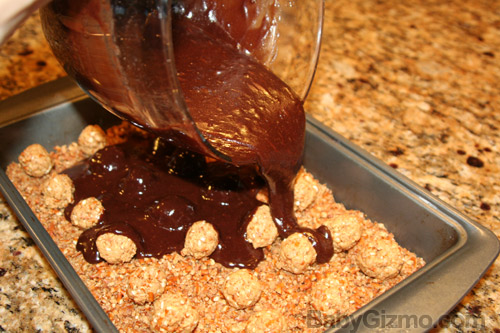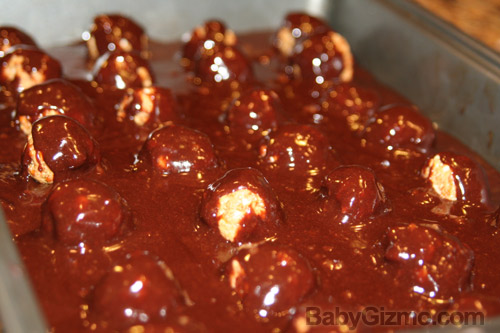 7) Bake the brownies at 350 degrees for 35-40 minutes or until an inserted toothpick in the center comes out mostly clean.
8. Cool for as long as you can stand it before digging in. Take a fork to the pan, we won't judge. Note: Adding a scoop vanilla ice cream to the brownies makes it that much better.