Homemade Mexican Chocolate Pudding — Ditch the Box
You know that moment in the World Series where one team realizes it just won?  That final catch or the walk-off homerun or the last strike?  Some guys run around like lunatics… others fall to their knees… mouths gaping, shouting for victory… you know what I'm talking about?  Yeah… I feel that way when I make something awesome.  I really do.  Like, I want to shout and run around my kitchen with my arms in the air I DID IT!  I DID IT!  I TOTALLY WON AT MAKING THIS MEAL!  It is part of my food nerdiness that I just can't hide.
Note: I don't *actually* do that, I just *want* to.  See the difference?  I hope so.
There is a category of dishes in particular that always makes me want to celebrate like I just won my team the World Series: Stuff Most People Buy Pre-Made.  Making something that most people buy in the grocery store – and doing it BETTER than the giant company who sells it – makes me want to freak out with excitement.
The dish in that category that makes me the most excited: pudding.  I should warn you; after you try making this yourself you probably will never buy a box of pudding mix again… and Bill Cosby *might* come banging down your door asking to endorse your product over the other.  I'm just warning you.
Homemade Mexican Chocolate Pudding
1/2 cup packed light brown sugar
1/4 cup unsweetened cocoa powder
2 1/2 tablespoons cornstarch
1/2 teaspoon cinnamon (This is the "Mexican" flavor — leave it out if you want)
Pinch of salt (1/8 teaspoon if you want to measure)
2 cups plain unsweetened almond milk (that's right — no heavy cream!) – Original or Vanilla works great
1 1/2 tablespoons unsalted butter, cut into bits for quick melting
1/2 teaspoon vanilla extract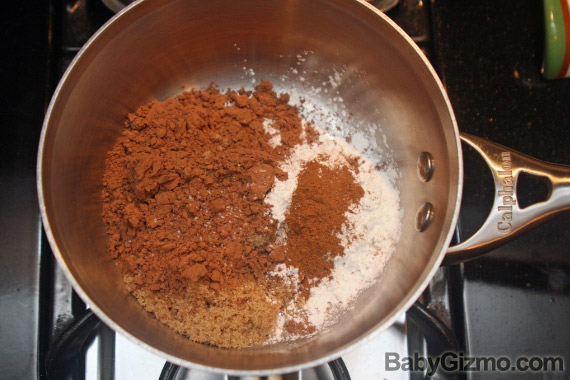 Put a medium saucepan over medium-low heat.  Add the brown sugar, cocoa powder, cornstarch, cinnamon, and salt.  Whisk it all together so there aren't clumps.  Pour in the almond milk and whisk.
Bring it to a boil, whisking often.  Once it boils, whisk constantly for 1 minute or until it starts to thicken and turns a nice deep chocolaty brown.  It will happen pretty quickly once it boils.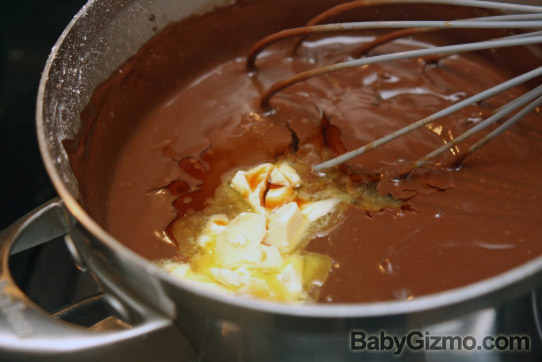 Remove from the heat and stir in the butter and vanilla extract.
Pour the pudding into a bowl and cover with plastic wrap.  Not into pudding skin?  Push the plastic wrap all the way down to the surface of the pudding.  Want the skin?  Just cover the top of the bowl.  Put it in the fridge to chill.  It takes about 2 hours to set (maybe more or less depending on your fridge).
This time I poured the pudding into small Mason jars and put them in the fridge for easy snacking.  A perfect snack for your kiddo or a chocolate fix for Mama mid-day.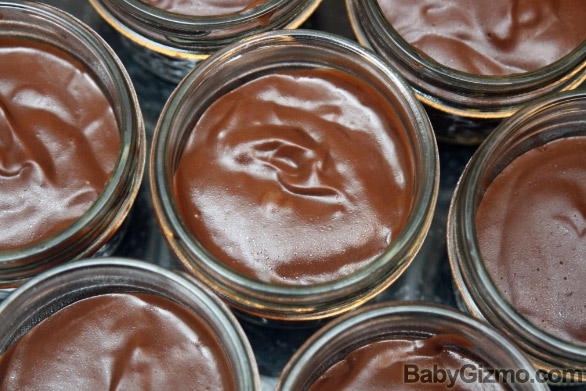 Fun for the kiddos: Let them decorate their pudding with sprinkles, fruit, nuts, chocolate chips, coconut… whatever they like!
Yummy for a grown-up tummy: Serve in martini glasses garnished with raspberries and fresh mint.
Or get crazy! Pour the pudding into a piecrust and let it set for a yummy pudding pie. Use it as layers for a trifle.  If you have other ideas for this yummy pudding, let me know!
Mostly… enjoy.  And stop buying boxed pudding!  This is way better.