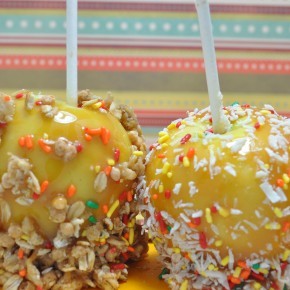 I love going apple picking with the family this time of year. I had the great  idea to make caramel coated apples but to be honest the idea frightened me.  The thought of me standing over a stove tying to turn sugar into caramel at just the right temperature sounds like a recipe for a kitchen disaster!  My husband told me when he was little his family would melt caramel candies to coat the apples….my in-laws are brilliant (okay lets not get carried away!)
Caramel coated apples will usually have no toppings or are coated with candy. I tried healthier topping besides just candy. I picked shredded coconuts, granola, crushed pretzels and crushed graham crackers and added halloween sprinkles to make them look festive. The healthier toppings would balance out the fact that we took a perfectly healthy apple and drowned it in caramel.  The pretzel coated apples were by far my favorite, the combination of sweet and salty was truly amazing.
Coating the apples was my little kitchen project with the kids.  The pictures of the apples are not perfect I had the kids dip and coat them.  I prefer to see the excitement on there faces then perfectly dipped apples.  I have to be honest I probably could not have done any better myself!
Ingredients:
12 small apples washed, dried and insert a stick in the center
2 packages of caramel 14 ounce bags
Toppings of your choice
Method:
1. Wash and dry the apples then insert a stick in the center.
2. Unwrap all the individual wrapped caramels.
3. In a small pot melt the caramels under low flames stirring the whole time until they melt.
4. Dip the apple in the caramel then coat with you're topping.
5. Lay the apples on parchment or plastic wrap and place the apples in the fridge for 30 minutes until caramels cools.