Strawberry Pop Tart Recipe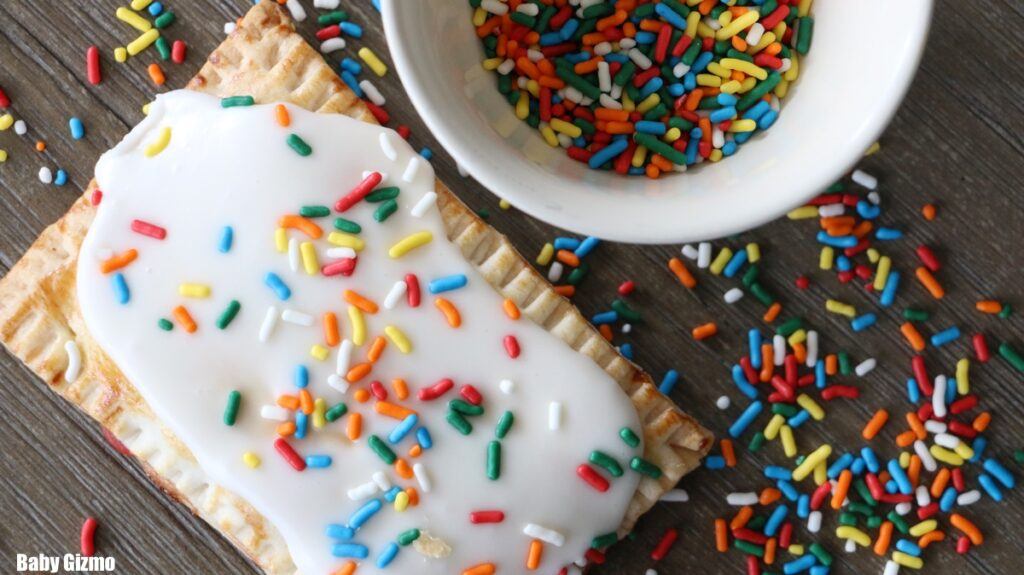 How many of us grew up loving Pop Tarts? *Raises hand* You know those packaged, fake pies with all types of filling from fruits to chocolate to marshmallows? Today, I'm showing you how easy it is to make your own homemade Pop Tart recipe and they are SO MUCH better than those preservative filled pies that we gobbled down as kids. To be honest, I'm not sure I can ever eat a boxed Pop Tart again after trying these. Sorry not sorry.
With the kids still home ALL. THE. TIME. (thanks, stupid pandemic!) I've been trying to come up with fun snacks or at least something to keep us busy. Last week was Valentine's Day Heart Peanut Butter Cookies and Cookie Dough Frosting. Today, the snack was homemade Pop Tarts.
Can I Make Homemade Pie Crust for these Pop Tarts?
Of course, you can make homemade pie crust. I didn't but that doesn't mean you can't. If you have time and want to make MORE Pop Tarts than just 6, I would suggest making your own pie crust.
This Homemade Pie Crust recipe is a great one!
Filling Options
While I'm showing you how to make Strawberry Pop Tarts today, there are many other fillings that you can try. Nutella, blueberry, Nutella/marshmallow, and raspberry are just a few great filings that are perfect inside a flaky crust.
Do Pop Tarts have to be Rectangle?
Absolutely not. You can put some cookie cutter to good use and make all kinds of shapes. I would stick to basic shapes. I used my left over dough to make a few Pop Tart mini hearts and they were SO cute!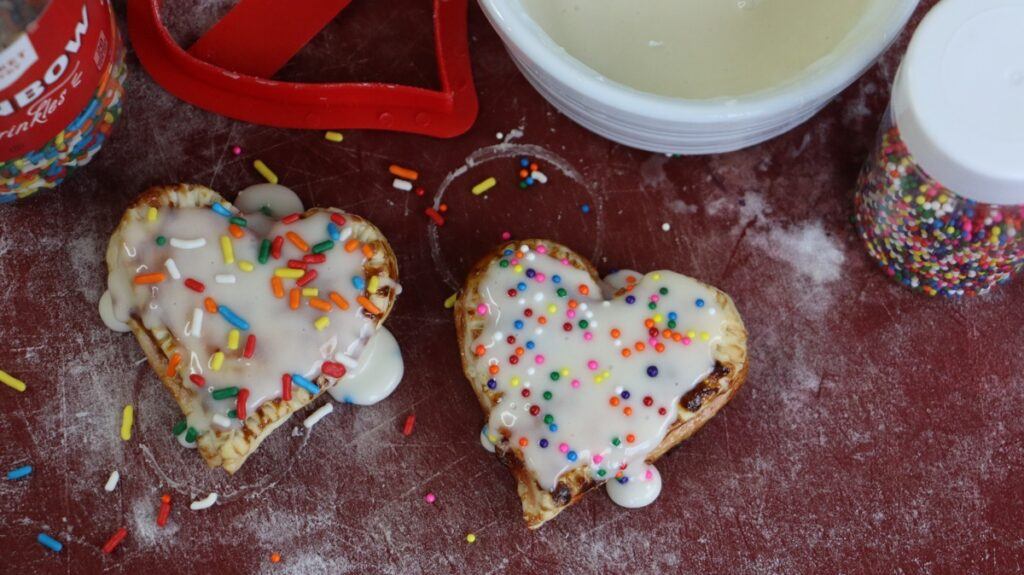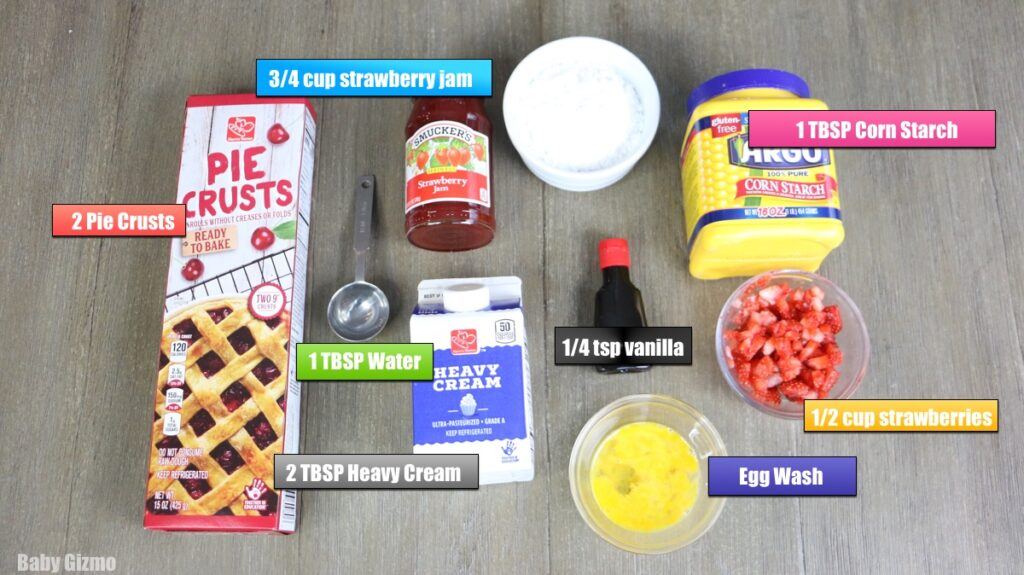 POP TARTS
Ready to Bake Pie Crusts (2)
For the Strawberry Filling
3/4 cups strawberry jam
1/2 cup chopped fresh strawberries
1 tsp vanilla
1 Tablespoons cornstarch
1 Tablespoons water, cold
For the Egg Wash
For the Glaze
1 cups confectioners' sugar
2 Tablespoons heavy cream (or milk)
1/4 tsp vanilla
For directions on how to make this Pop Tart recipe, see the recipe card below.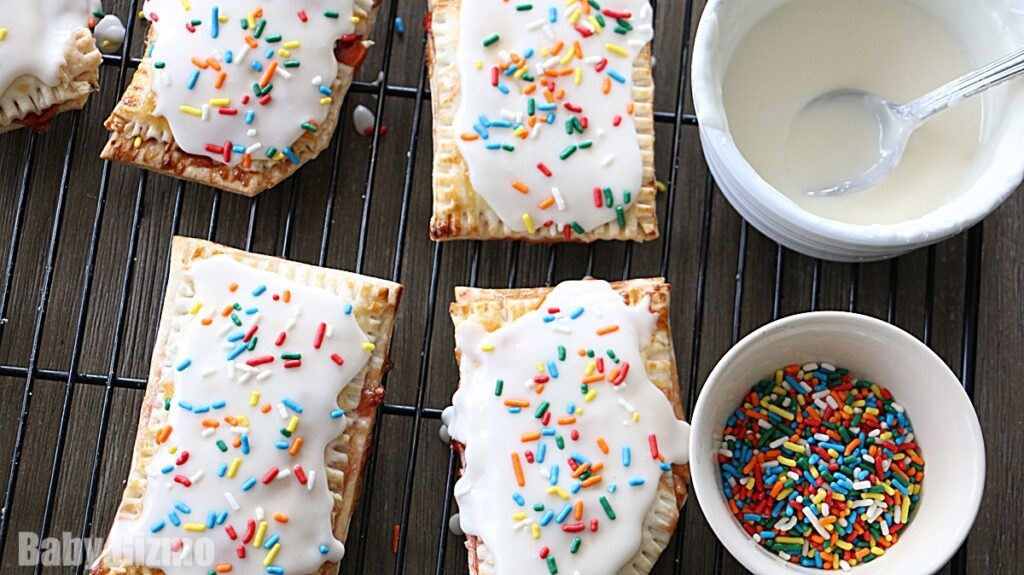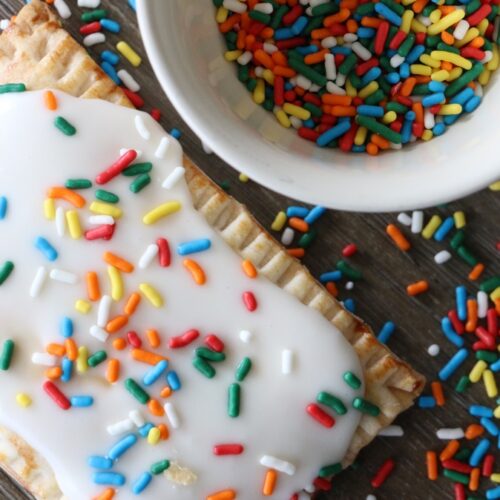 Homemade Strawberry Pop Tarts
This is an easy way to make delicious Strawberry pop tarts.
Ingredients
For the Filling
3/4

cup

strawberry jam

1/2

cup

strawberries

finely chopped

1

tsp

vanilla

1

tbsp

cornstarch

1

tbsp

water
For the Pie Crust
2

refrigerated pie crusts

1

egg

beaten
For the Glaze
1

cup

powdered sugar

2

tbsp

heavy cream (or milk)

1/4

tsp

vanilla
Instructions
To make the filling, put the strawberry jam and finely chopped fresh strawberries into a saucepan and heat over medium heat for 2-3 minutes. Stir periodically.

While the strawberries are heating, whisk the cornstarch with 1 tsp vanilla and 1 TBSP water until smooth. Add the cornstarch mixture to the jam. Cook over medium heat for another 4-5 minutes until thickened. Remove from heat.

Roll out one pie dough on a floured surface. Roll into a rectangle as much as you can. Using a pizza cutter, cut the dough into 6 even rectangles. Repeat with second pie dough roll so that you have 12 rectangles.

Place 6 rectangles on a baking sheet (that is covered with parchment paper). Spoon 1-2 tablespoons of the strawberry jam mixture into the middle of each pastry. Spread the filling around but be sure to leave border around the edges to seal the pastries.

Cover each square with the remaining dough squares. Crimp all the way around the pastries with a fork to seal them.

Brush the top of the pastries with the egg wash.

Bake for 14-16 minutes at 375 degrees. Cool on a baking rack.
GLAZE
To make the glaze, mix the powdered sugar, heavy cream and vanilla until smooth. Spoon the glaze over each cooled Pop Tart and top with sprinkles.