No Bake Chocolate Peanut Butter Bars
I'm a Reese's peanut butter cup girl. Always have been, always will be. I blame my dad. I think I inherited this obsession from him. Awhile back I tried Trader Joe's peanut butter cups too. They're extra good in all the right ways. Basically, chocolate and peanut butter is perfection in my book.
The other day when craving some good ol' chocolate and peanut butter I realized my stash of pb cups was empty so I decided to whip up something homemade. I browsed Pinterest and smashed together a few recipes based on what I had in my pantry. Friends, holy moly, I made the most amazing treat EVER!
If chocolate and peanut butter is your jam, you're going to love these no bake peanut butter bars. Like, super love!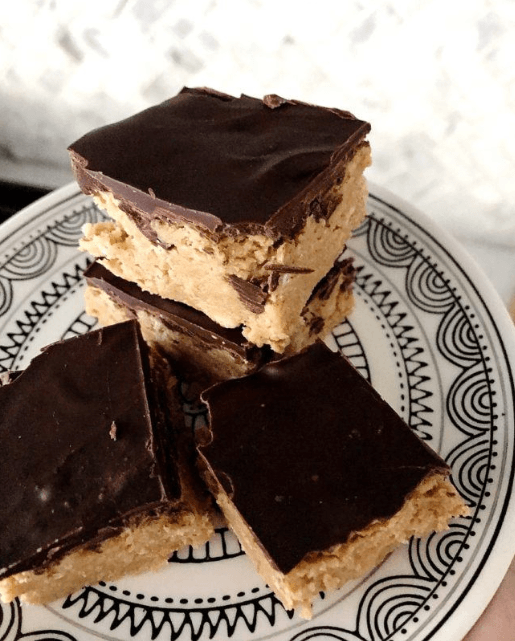 Ingredients
1/2 cup salted butter, melted
8 full pieces of graham crackers, smashed into crumbs
2 cups powdered sugar
1 cup creamy peanut butter (like Jif or Skippy)
2 tablespoons peanut butter, the same as above just separate
1 cup chocolate chips
Directions
Line a square baking dish with parchment paper.
In a large mixing bowl melt the butter. Add graham crackers and mash like crazy. The goal is to make it look like wet sand. Add powdered sugar and 1 cup of peanut butter. Blend well with a hand mixer. You want it very smooth. Press into the baking dish.
In a separate bowl microwave chocolate chips and 2 tablespoons of peanut butter. I did a few rounds of 20 seconds. Stir between each microwave session. Once melted and smooth, pour over the peanut butter mixture.
Chill in the freezer for one hour then cut into desired bar size.
I prefer my peanut butter treats frozen but these can be served thawed or at refrigerator temperature, whatever you prefer! Store leftovers in the fridge or freezer.