Pinterest and the Sugar Cookie Bars
Let's just say I'm obsessed with Pinterest. Whoever said it was food p*rn was absolutely 100% right!  I can't help myself. Even though I'm trying to eat healthy and am currently doing Jillian Michael's 30 Day Shred, I find myself constantly purusing the food category on Pinterest. I'm not just browsing all those healthy family options but I'm focusing on all the yummy sweets that gloriously fill the pages of Pinterest. I have a sweet tooth.  I can't help it. The food & drink section of Pinterest to me is equivalent to a Playboy magazine to a sex-crazed male. And more often than not, just like those magazines, I find the photos of food on Pinterest fake and unobtainable. It's just a tease. A mean, mean tease. I find photos of the most delicious looking desserts that are literally calling my name. "Make me!",  they call. I succumb to the pressure and run to the store to gather all the ingredients.
I can make that yummy dessert. How hard can it be? I'm a great baker.
It always starts out so great and ends so wrong. Those foodie photos on Pinterest are just fake. It's not real. It can't be. Those foodies have a knack for staging a beautiful photo. As hard as I try, I rarely can duplicate those recipes and actually end with such a scrumptious dessert. It's not like my desserts end up unedible, it's just that they don't turn out like those model food photos. I JUST CAN'T DO IT! This is why I find Pinterest just mean, mean, mean.
Last night was a perfect example!  I saw the most scrumptious photo of Sugar Cookie Bars on Pinterest and decided to make them for my kids. Since trying to duplicate Pinterest recipes and photos always ends so ugly, I decided to document my experience to share with you.  Here's how it went and to be fair I saw the pin from A Little Bit Crunchy.
Here is the photo of the sugar cookie bars that I was trying to make. Looks good, doesn't it?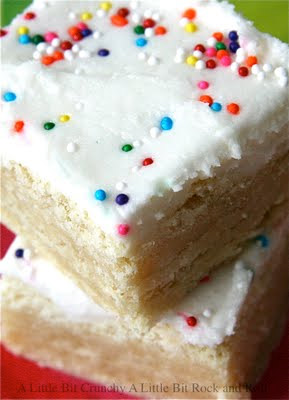 Ingredients:
1 cup unsalted butter, room temperature
2 cups sugar
4 eggs
2 teaspoons vanilla
5 cups flour
1 teaspoon salt
1/2 teaspoon baking soda
Directions:
Before I begin – let me just tell you that I cut the recipe in half. I didn't have enough sugar for the entire recipe and I figured if it turned out bad I wouldn't waste too much!)
1. Cream the butter and sugar together until fluffy. (Easy…I'm doing good so far!)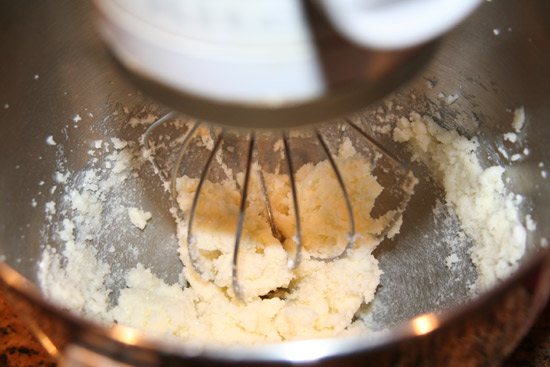 2. Add the eggs, one at a time, mixing well after each addition.
3. Meanwhile, mix the dry ingredients together in a separate bowl. (I'm still on track. No problems.)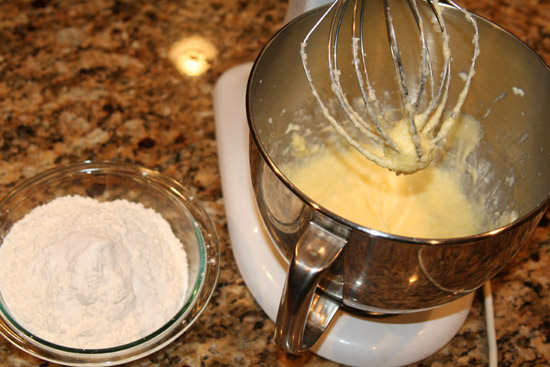 4. Add the vanilla to the creamed mixture and then slowly add the dry ingredients.
5. Press into a greased 13 x 18 inch pan and bake at 375F for 10-15 minutes. (Eeeeeek!  Pull the e-brake! Here is where it goes downhill!  I obviously can't read!  It says "13×18 inch pan" and I figure a 6 1/2″ x 9″ pan would do since I cut the recipe in half. Ummm…no. Bad call!  Yet, I don't figure this out until it's in the oven and I realize that it is NEVER going to cook in the recommended time. Instead of the 10-15 minutes, I leave mine in the oven for closer to 30+ minutes.)


When the cookie looked browned on the edges and along the top, I figured it was time to take it out.


6. Cool and frost (see directions below). (In my delusional state, I still think I'm on track and proceed to ice the cookie with the icing that I made according to the recipe.
Frosting Ingredients:
1/2 cup unsalted butter, room temperature
1/2 cup shortening
1 teaspoon vanilla
pinch of salt
4 cups powdered sugar
5 tablespoons of milk
food coloring (optional)
sprinkles (optional)
Directions:
1. In a mixing bowl, beat the shortening and butter until creamy.
2. Add the vanilla and powdered sugar.
3. Gradually add the 5 tablespoons of milk until you reach your desired
constancy.
4. Add sprinkles.
5. Chill and cut.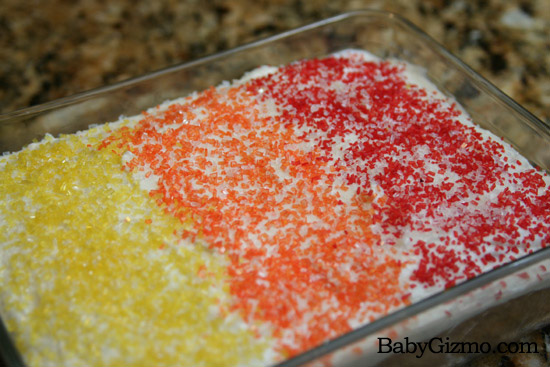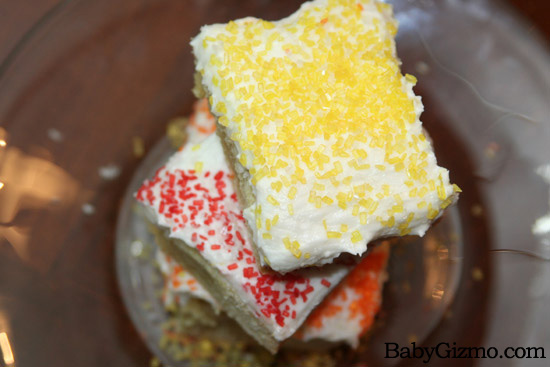 Looks all good, right? My kids each wanted a different color sprinkles so I obliged them with all three. These bars look really yummy because I positioned them in the photo to look great.
Here's the reality: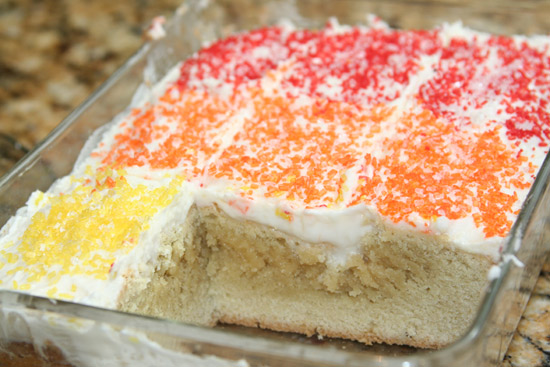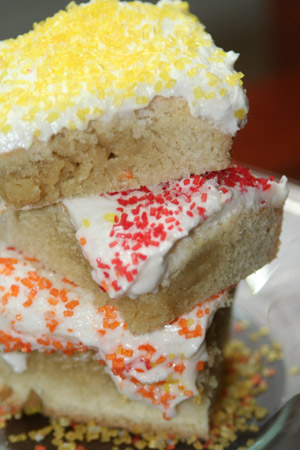 This is equivalent to a foodie trainwreck!  Even after 30+ minutes in the oven, the inside was not cooked enough.  Yet, the outer edge was dry and overcooked. While my husband still ate them (probably just to be nice!), they weren't very good. To be fair to Pinterest and the recipe, it was my fault. I should have waited to make the recipe until I had all ingredients instead of cutting it in half and shoving it in the wrong size pan.
While I had the best intentions of sharing my experience in making these very popular sugar cookie bars (and sometimes I just need a break from strollers!), the main purpose of this post is to tell you to beware all the gorgeous photos on Pinterest. While they may look easy to duplicate by the average person, most of the yummiest photos are staged by foodie professionals. That is not me.
That being said, I'm glad we just hired a Baby Gizmo Foodie Blogger to share family-friendly tips and recipes every Friday starting next week just to mix things up.  That way you don't have to suffer through my amateur attempts anymore and I can just stick to baby gear. While I thought I was a great baker, Pinterest just painfully reminds me otherwise.  I think I'll just stick to browsing the yummy photos of Pinterest and just pin what I think "looks good" to share with everyone. I'm obviously much better spotting good desserts than actually making them! Why not follow me on Pinterest here?