Two Ingredient "Healthier" Cupcakes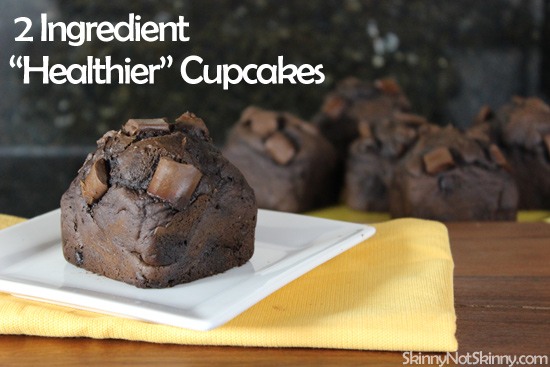 Yep, still on my healthy eating kick and I'm at three weeks and going strong. I'm not sure how much weight I've lost because I didn't weigh myself at the beginning. I knew I gained some weight over the holidays, and honestly, didn't want to know how much.
Plus, the scale is just a mean, mean thing! It doesn't really account for how much muscle I gained from all the boxing I've been doing that has replaced the fat. You know muscle weighs more than fat, right?! At least that's what I've always been told. So, the scale is like the devil. I want nothing to do with it at this point of my getting healthy/skinny journey.
After cutting out all desserts and keeping on track for 3 weeks, my inner baker has been screaming (more like crying in the fetal position in the corner of the closet!) for baked goods. I'm well aware that if you deny yourself too long, there is always the possibility that you'll go over the deep end and just abandon the whole healthy eating or dieting all together. There is always a great compromise and tonight I think I successfully did that.
While my peanut butter chocolate chip cookies or Ultimate Cookie Candy Bars weren't going to get anywhere near the healthy mark, I opted for the 2 Ingredient "Healthier" Cupcakes! To be fair, I add in 1/2 cup of chocolate chips to add a little more sweetness, so it is technically 3 ingredients, but you don't have to.
This is the first time that I've made these cupcakes, and to be honest, I was a little scared they were going to taste "diet" or just gross. I'm so happy that I was wrong! These babies were exactly what I needed! Sure, they aren't the same as having a big chocolate cupcake loaded with frosting but they were a great, sweet fix for someone trying to stay on track.
The cupcakes are much more dense than a regular cupcake but they are moist. And I have to say that they actually filled me up more than a regular cupcake would! That is good because I was completely content with just having one. I do suggest adding the chocolate chips because they really made a difference. Besides the 1/2 cup that I added to the entire batter, I added just three semi-sweet chocolate chunks to the top of each. (Nestle Chocolate Chunks in the chocolate chip aisle!)
If you want to take it a step healthier (yes, boxed cake mix is NOT healthy, I get it! That is why I call it "healthier" because I don't add the egg or oil!), you could use the Sugar Free Cake Mix.
These are easy-peasy to make and will definitely satisfy your sweet tooth! I also heard that you can basically use any cake mix and a can of pumpkin! Many people like the spiced cake mix combination the best but I thought the chocolate was great!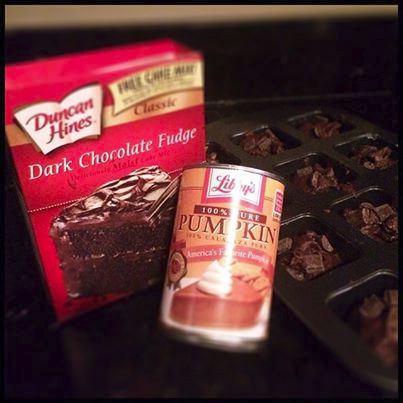 Ingredients:
One (1) Box of Chocolate Cake Mix (you can substitute any flavor)
One (1) 15 oz can of pumpkin
1/2 cup chocolate chips (optional)
Preparation:
1. Preheat oven to 375 degrees and prepare 18 cupcake cups with liners (or you can grease the cups).
2. Mix one can of pumpkin with one box of cake mix powder in a stand mixer or with a hand mixer until well combined . No need for any eggs, oil, butter, or other cake ingredients. Add in 1/2 cup chocolate chips (mini or regular) if you want to add a little sweetness.
3. Pour the batter evenly into the 18 prepared cupcake cups and bake for 22-24 minutes. I decided to use my square individual brownie pan for these cupcakes just to mix things up.
4. Let cool for 10 minutes and enjoy. I definitely recommend trying these cupcakes while they are warm! They really do taste delicious! You could add frosting if you want, but remember I am trying to eat healthy right now and frosting just steps over the line for this dessert! 🙂