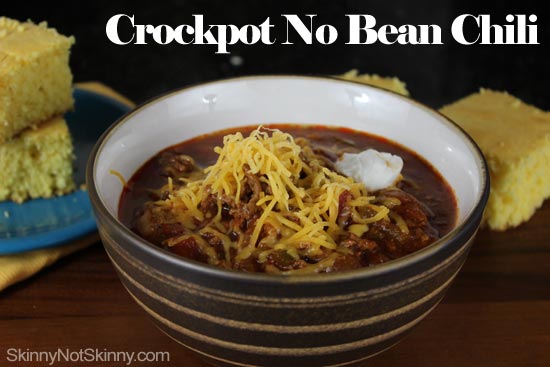 It is an understatement to say that I'm a little obsessed with my crockpot lately. As a matter of fact, I've been crockpoting so much lately, that my trusty crockpot that I've had for years stopped working correctly. So this past weekend, it was crockpot shopping time! I picked up a great one at Target and got to work right away with new slow cooker recipes.
Yesterday was super cold in Chicago (like it has been for…oh, I don't know…6 months!) so Chili and cornbread seemed to be a great comfort food that is pretty darn easy to make. My husband refuses to eat beans, therefore we do bean-less chili. It's okay because let's just say it is a lot less windy in our house to keep the beans out. 😉 If you have a bean-loving family, just substitute the 1/2 cup water for a can of beans.
This chili was a HUGE hit with the family! My husband had two full bowls and even my 4 year old ate it. He doesn't eat anything.
Ingredients:
2 pounds lean ground beef
1 medium onion, chopped
1 green bell pepper, chopped
1 garlic clove, minced
1½ (14.5 oz.) cans of diced tomatoes, undrained
2 (8 oz.) cans of tomato sauce
½ (6 oz.) can of tomato paste
⅛ cup chili powder
½ tbsp. granulate sugar
½ tsp. ground red pepper flakes
¾ cup water (OR – 1 (16 oz.) can of red kidney beans, drained and rinsed)
Optional Toppings: sour cream, cheddar cheese, green onions
Preparation:
In a large skillet, brown the ground beef. Drain and place in the insert of your slow cooker.
Add in the rest of the chili ingredients and stir to get everything mixed well.
Cover and cook on high for 5-6 hours or low for 7-8 hours.
Serve with desired toppings. I prefer cheese and sour cream but onions are good too!
Serves: 4-6