Crockpot Tortellini and Sausage Soup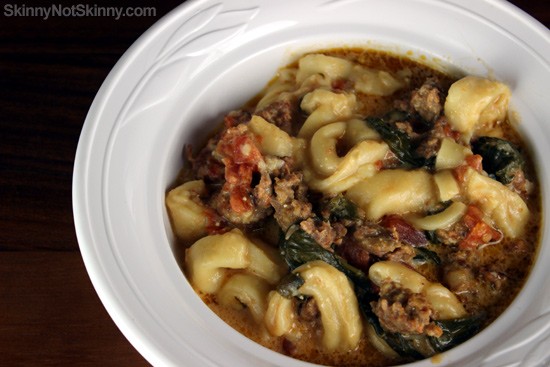 Last night I hit a homerun with the family by making a new soup for dinner. I knew the whole family loved traditional tortellini with alfredo sauce so when I saw the variety of Tortellini Soups all over Pinterest, I knew I had to make one. I settled for a Tortellini and Sausage Soup because rarely have Italian Sausage for dinner so I knew this would be a great way to switch things up.
Now, this didn't fall into my super healthy dinner selections lately but I figured with all the spinach and the fact that I used low-fat cream cheese, it wasn't completely horrible for us. It's all about moderation, right? Plus, the best thing about this dish was it was another crockpot winner that I just threw it all in the pot in the morning, and voila, dinner was ready in the evening!
Ingredients:
1 (19 oz.) bag frozen cheese tortellini
1 lb. Italian sausage
1 bag fresh spinach
2 cans diced tomatoes
2 cans low-fat chicken broth
1 (8 oz.) low-fat cream cheese, cut into cubes
Preparation:
1.Brown the Italian sausage in a skillet on the stove until cooked and crumbled. Drain.
 2. Add the sausage and remaining ingredients (tortellini, spinach, tomatoes, chicken broth and cream cheese) to a slow cooker. Stir to combine.
3. Cook on LOW for 6 hours. If you can, stir the soup twice during cooking.