Mini Peanut Butter Pretzel Crisp Sandwiches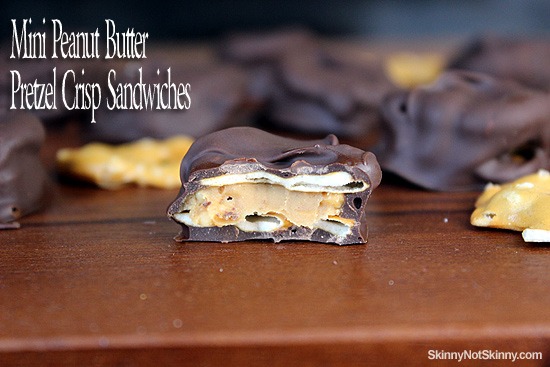 We had a special delivery on Friday afternoon just in time for after school snack time! It's was a tasty surprise to find an entire bag of Pretzel Crisps in all the different flavors on our front steps courtesy of Pretzel Crisps. Yes, I knew they were coming but I didn't know when.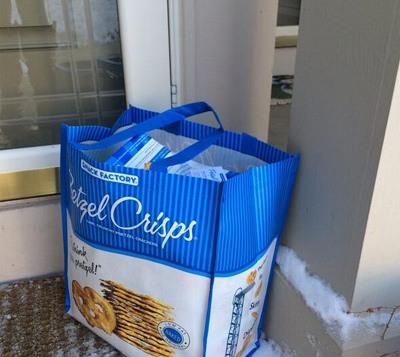 While we were enjoying all the tasty different flavors, I was missing the dark chocolate covered Pretzel Crisps that I picked up at Costco back during the holiday season. Unfortunately, I have heard that is a seasonal flavor and wasn't included in our Pretzel Crisps grab bag! No worries because they included the new Mini Pretzel Crisps and I'm a crafty little mama with a bag of chocolate.
Since we are living in a cozy, little condo for a few months while our new house is being finished in North Carolina, we really needed an activity this afternoon. Sometimes our condo is a little too close for comfort and the kids start climbing the walls. That is definitely no fun in the winter. So, I had the idea to get creative with the Pretzel Crisps. We started with just dipping the Minis in dark chocolate, which were totally delicious, but I wanted to take it a step further and make them into sandwiches. We grabbed the jar of peanut butter and went to town. Since I'm "dieting", I decided to use the Pretzel Crisps Minis so that these little gems are bite-sized. That doesn't mean that I couldn't devour like 30 of them in a matter of minutes, but I'm trying the "all in moderation" little trick. 😉
The kids were able to help, and while it was messy, we all had fun and ended up the with the yummiest sandwiches that you can make. Sweet + salty + crunchy = heaven!
Ingredients:
Pretzel Crisps Minis
Peanut Butter (I used crunchy but smooth works too!)
Chocolate (I used dark – any chocolate works though!)
Directions:
1. Take one Pretzel Crisps Mini and smear a dab of peanut butter on it. Top it with a second Pretzel Crisp to create a sandwich. Set on a wax paper covered tray or plate.  Repeat to make as many sandwiches as you'd like. Put the peanut butter pretzel sandwiches in the freezer to chill for about 20 minutes.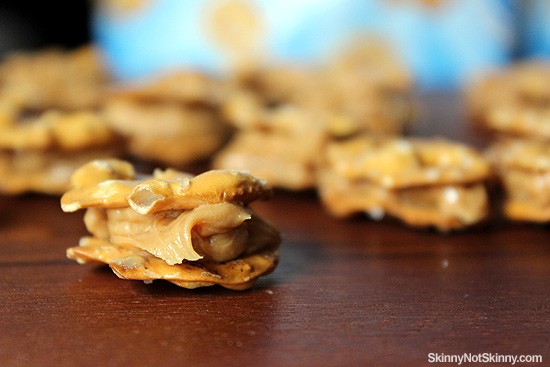 2. Melt 12 ounces of chocolate in the microwave. Stir until smooth.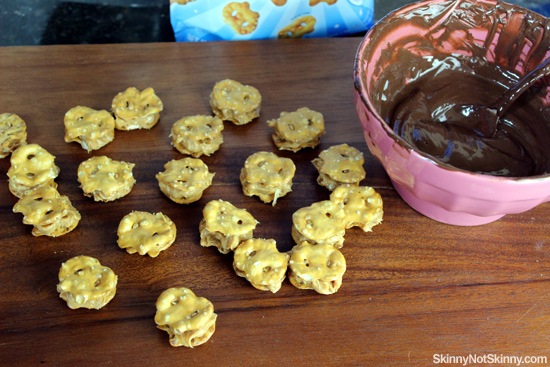 3. Remove peanut butter pretzel sandwiches from the freezer and dip one by one into the chocolate covering the entire sandwich. Lightly tap or scrap along the edge of the bowl to remove excess chocolate.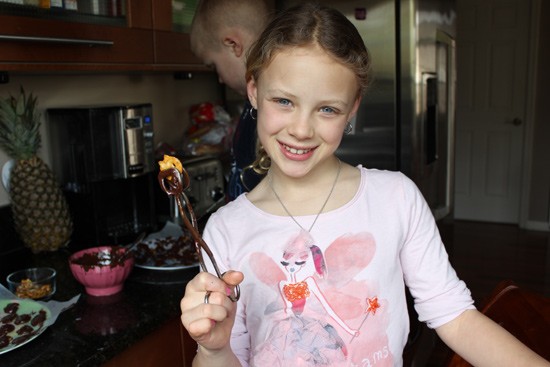 4. Set back on the wax paper covered tray or plate. Return sandwiches to the freezer and chill until set. About 20 minutes.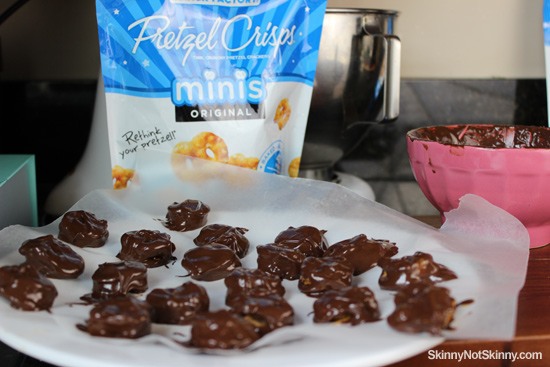 5. Remove from freezer and enjoy. I keep these stored in the refrigerator in a sealed container.