Flourless Chocolate Cupcakes for Passover or Any Day
Important note: This is NOT a Passover recipe!  This is an incredibly delicious recipe that HAPPENS to be kosher for Passover.  Don't run away!
Why the warning?  Passover desserts are generally not good.  For those who choose to observe Passover by eliminating all leavened foods for the eight-day holiday, you know that making baked goods for Passover is a challenge.  Replacing flour with matzah meal (matzah ground to a fine powder) generally results in a heavy, dry and generally not-so-tasty dessert.  I got cotton mouth just thinking about it.  Can you tell I'm not a fan?
My Passover strategy is to eliminate leavened foods but avoid recipes that are specifically for Passover.  It is like when something is labeled as "diet" it is gross, but if it is just regular healthy food it tastes delicious.
Enough chatter… let's bake!  (Something else I should tell you is that I hate baking.  But it is required if you love chocolate as much as I do.  So… I bake.)
This recipe is completely kosher for Passover AND is delicious all year-round.  In fact, the original recipe mentions nothing about the holiday.
Flourless Chocolate Cupcakes
1 1/2 cups (10 1/2 oz) bittersweet chocolate chips (use semisweet or milk chocolate if your kiddos don't want it to be so intensely chocolaty – and for those making this for Passover, use whatever meets your dietary observances)
1 cup (2 sticks) butter cut into pieces
4 whole eggs
4 egg yolks
1/2 cup sugar
2 tbsp. cocoa powder, sifted (I use Hershey's – you can get fancy if you would like.  Nicer cocoa powder would make these better, I'm sure.)
1 tsp vanilla extract
Preheat your oven to 375 degrees.  Put muffin cups into your muffin pan.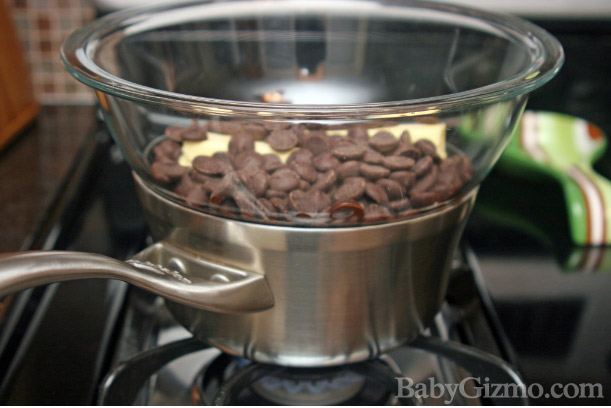 Put your chocolate chips and butter over a double boiler.  What's a double boiler, you ask?  Boil a small amount of water in a pot and place a glass bowl on top. Add your ingredients to the bowl.  This melts everything very gently so it doesn't burn.  If you don't have a good bowl for this, you can use the microwave… it might take a bit longer and you should watch to be sure it doesn't burn.
When everything is melted, set it aside to cool.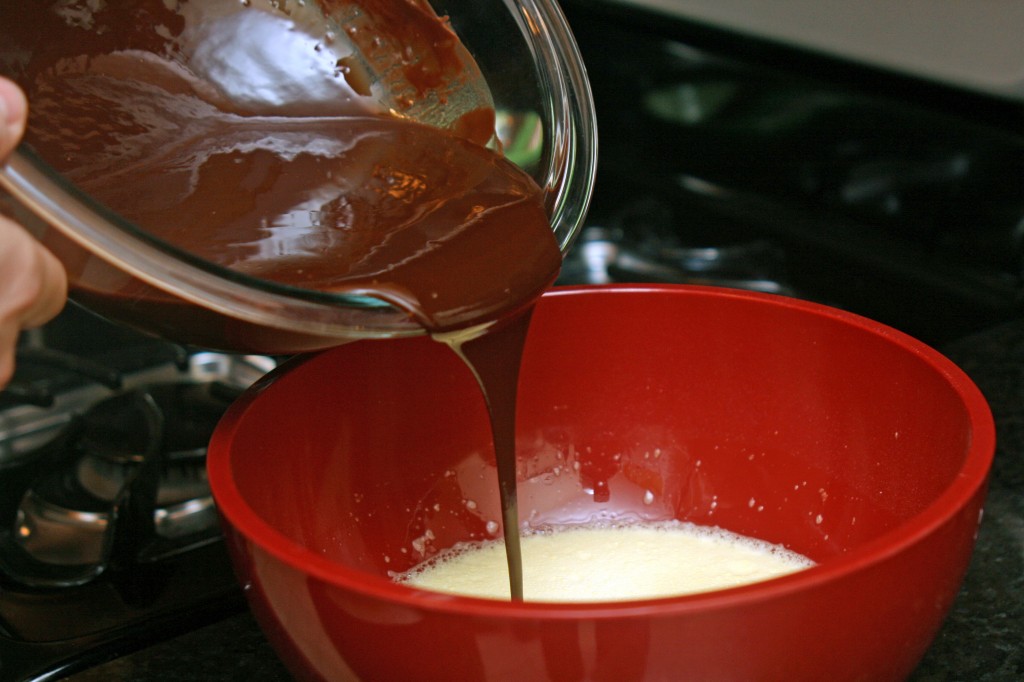 In a large bowl, cream the eggs (all of them – whole eggs plus the additional yolks) and the sugar.  Once it is thick and a pale yellow color, gently fold in your remaining ingredients – the cocoa powder and vanilla extract.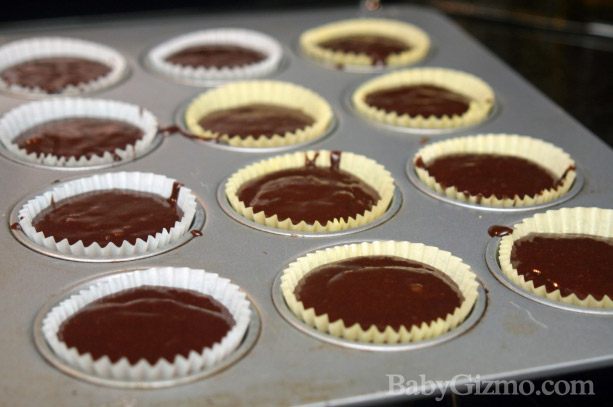 Gently spoon the batter into your muffin cups.  Remember, there is no leavening in these cupcakes so they won't rise.  Fill those babies almost to the top!
Bake for 20 minutes.  Remove from the oven and let cool for 5 minutes in the muffin pan.  You can then remove them from the pan and let them finish cooling on a rack.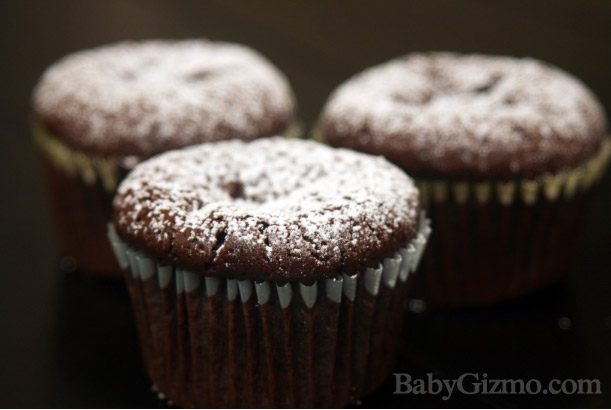 Dust with powdered sugar before serving.  You could also add a frosting if you wish, but I don't think it is necessary.  These cupcakes are incredibly moist and rich without anything else!  In fact, a frosting might make them too rich but that is a personal preference.
I have made these for Passover seders and as a decadent dessert at other times during the year.  They are amazing!  A chocolate lovers dream.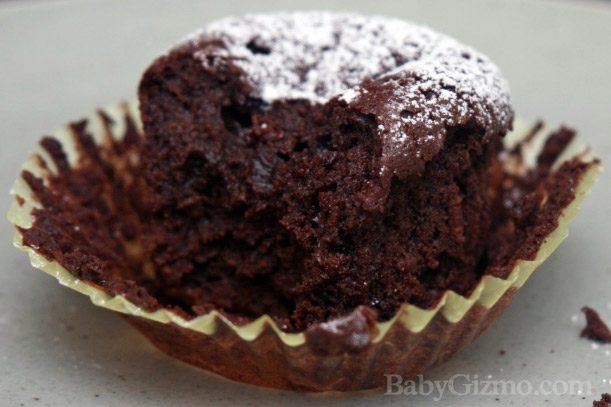 I *may* have had one today.  Ok, I had three!  Don't judge!