Double Strawberry Fudge Ice Cream Pops
It's middle of the summer now and it's getting hot outside, which means that I like to limit the amount of time that I have the oven on. Ice cream treats and other no-bake desserts are top of my list for yummy things to make for my family and friends. One of my favorite things to make in the summer are ice cream pops. These are so great because it's one of those desserts that can also be an activity for the kids. I set out all the possible toppings that I have on hand and then grab the ice cream from the freezer and they go to town. Each kid can make their ice cream pop the way they like it. It's easy to do and the only bad thing about these pops are that they end up having to go back in the freezer until the next day before you can eat them. If you plan ahead and the kids know you are making a treat for the next day, it's no big deal.
You can make all kinds of different variations of these pops, but today I want to share my amazing Double Strawberry Fudge Ice Cream Pops.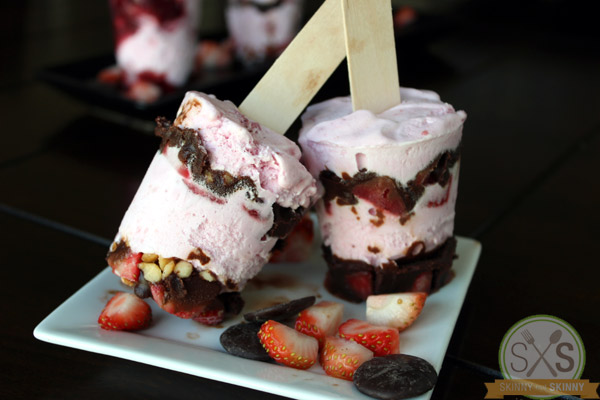 Double Strawberry Fudge Ice Cream Pops
Ingredients: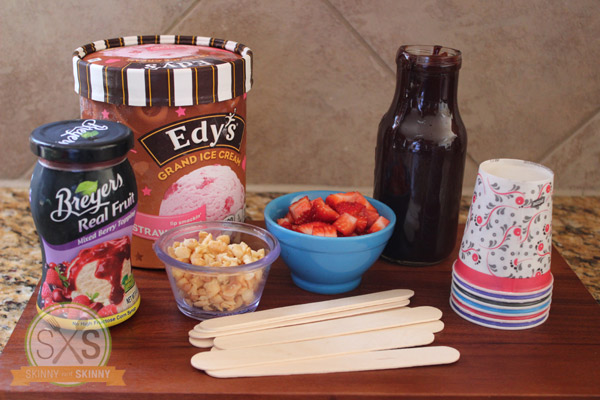 Strawberry Ice Cream, softened
Fresh Strawberries
Hot Fudge (recipe here)
Breyers Real Fruit Mixed Berry Topping
Macadamia Nuts, chopped
Dixie Cups
Craft Sticks (wide popsicle sticks)
Preparation:
1. Drop a spoonful of fresh strawberries in each Dixie Cup.
2. Add a spoonful of hot fudge. I prefer to make my own hot fudge because it just tastes that much better. You can find the recipe here.
3. Add a spoonful of Breyers All Fruit and sprinkle chopped macadamia nuts on top.
4. Top with a spoonful of strawberry ice cream. (I let the ice cream set out on the counter for about 5-10 minutes to soften.)
5. Repeat with a spoonful of strawberries, hot fudge, Breyers All Fruit, macadamia nuts and finish with strawberry ice cream layer.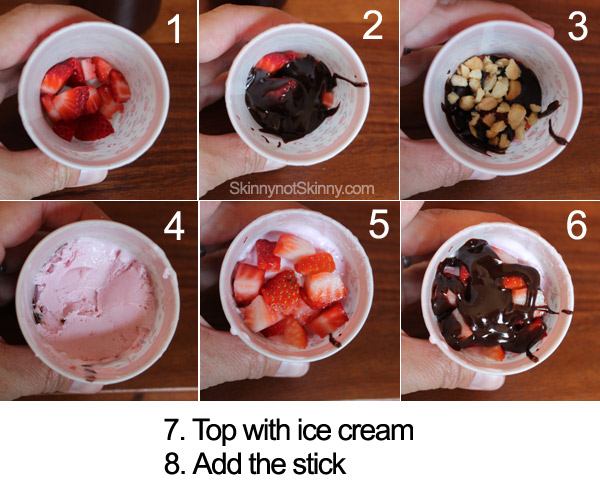 6. Insert a craft stick into the center of the ice cream pop.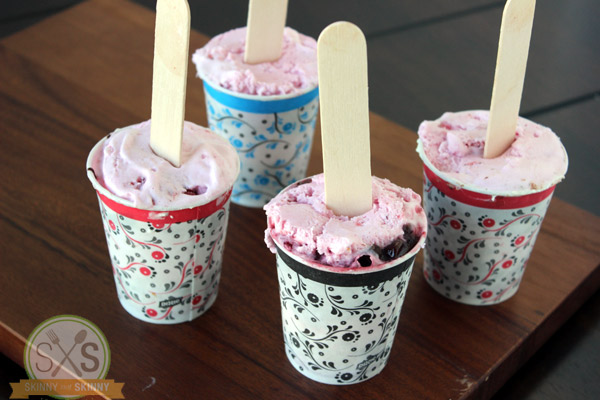 7. Put the ice cream pops in the freezer for 4-6 hours to firm back up. These are best if you keep them in the freezer overnight and enjoy them the next day.
8. When the ice cream pops are ready to eat, cut the side of the Dixie Cup and tear it off the pop. Serve right away.