Hot Fudge Turtle Ice Cream Pops
Remember a couple weeks ago when I made the Double Strawberry Fudge Ice Cream Pops? Well, they were a huge hit but I realized that not everyone likes strawberry. So, this weekend I decided to experiment with another flavor and these might just be even better than the first ones.
The best thing about making ice cream pops is that you can customize the flavors for each one to suit different tastes. One kid only eats M&Ms? Ice cream and M&Ms is what you make. Another kid loves strawberries and fudge but hates nuts? Make the Double Strawberry Fudge Ice Cream Pops and just leave out the macadamia nuts. Yep, easy as that.
Today I wanted to share my Hot Fudge Turtle Ice Cream Pops because they are amazing! Seriously, the combination of the gooey caramel, rich hot fudge, pecans and vanilla ice cream is amazing!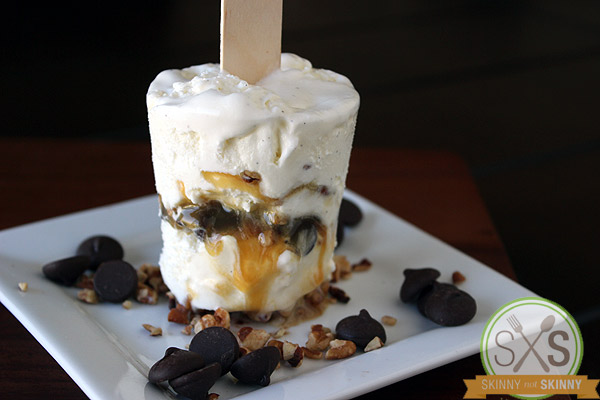 Ingredients: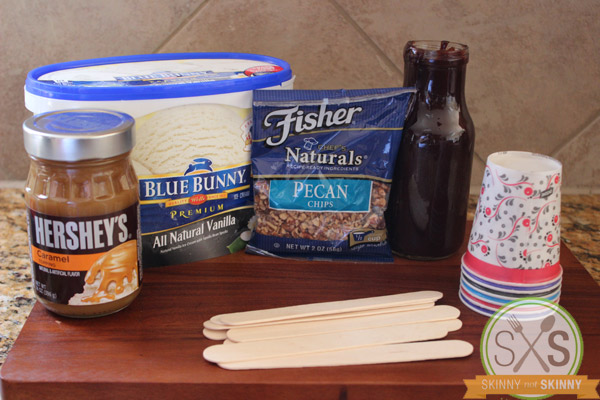 Vanilla Ice Cream (softened)
Hot Fudge (great recipe here!)
Caramel Sauce
Chopped Pecans
Chocolate Chips
Dixie Cups
Craft Sticks
Preparation:
1. Drop a spoonful of chopped pecans (or "Pecan Chips") in each Dixie Cup.
2. Add a spoonful of caramel sauce.
3. Add a spoonful of hot fudge. I prefer to make my own hot fudge because it just tastes that much better. You can find the recipe here.
4. Sprinkle with a few chocolate chips.
5. Top with a spoonful of vanilla ice cream. (I let the ice cream set out on the counter for about 5-10 minutes to soften.)
6. Repeat with a spoonful of pecans, caramel, hot fudge, chocolate chips and finish with a vanilla ice cream layer. You should have two full layers of each ingredient.
7. Insert a craft stick into the center of the ice cream pop.
8. Put the ice cream pops in the freezer for 4-6 hours to firm back up. These are best if you keep them in the freezer overnight and enjoy them the next day.
9. When the ice cream pops are ready to eat, cut the side of the Dixie Cup and tear it off the pop. Serve right away.