Slow Cooker Cheeseburger Soup Recipe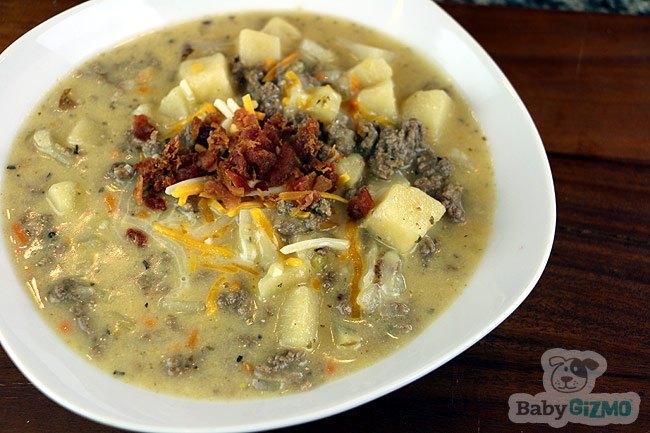 Summer is officially over next week and the chaos of school and sports has begun which means that I've already dusted off the Crockpot. That's right, my Crockpot works over time in the fall when I just don't have time to make dinner in the late afternoon. Preparing everything and throwing it in the Crockpot in the morning and having a piping hot meal at dinner is ideal for my busy schedule.
This week I came across this recipe for slow cooker cheeseburger soup and I decided to try it out on the family. It was a HUGE hit. My husband loved it so much that he said, "This soup rivals your Crockpot Cheesy Potato Soup which is super hard to do!"
Wait! What?!?
He almost likes it as much as the potato soup? That means this soup is da bomb, people!
Plus, all three of my kids loved it and pretty much licked the bowls clean. Good thing for you is that the soup is easy to make and easily feeds at least a family of 5 (we had leftovers!).
Ingredients:
1 pound ground beef
¾ cup chopped onion
¾ cup shredded carrots
¾ cup diced celery
1 teaspoon dried basil
1 teaspoon dried parsley flakes
3 cups chicken broth
4 cups peeled and diced potatoes
4 tablespoons butter, divided
¼ cup all purpose flour
2 cups shredded cheddar cheese
¾ teaspoon salt
¼ to ½ teaspoon pepper
¼ cup sour cream
bacon bits (topping)
Instructions:
Combine diced potatoes, onion, celery, carrots, chicken broth parsley and basil in your slow cooker. Stir. Cook on low 8 hours (or high 4-6 hours!) until potatoes and veggies are tender.
About 30 minutes before the veggies and potatoes are done, cook the ground beef in a medium skillet about 4-5 minutes until brown. Remove and set aside.
In the same pan, add the butter. Melt the butter and add flour and cook until bubbly. Add the salt, pepper and sour cream.
Add cream mixture, cheese, and ground beef to the crockpot. Stir. Cook until the cheese is melted. Serve with bacon and cheese on top (optional).
*Recipe from The Recipe Critic