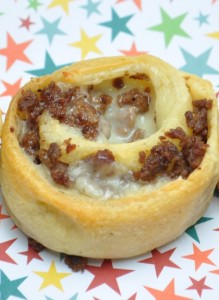 My little guy loves cheeseburgers! He would eat them every day if he could. Who doesn't love a good cheeseburger, right?!? To fix his burger craving I make them at home and try different varieties. My kids have never had fast food because it is something I don't believe in introducing in kids diets. I'd rather make my own burgers because I know exactly what ingredients are going in them.
I add organic lean ground beef and american cheese to crescent rolls and just like that you have cheeseburger roll ups. My son loved them and I made 16 roll ups and froze the rest for future lunches. You can make a variety of rolls ups: vegetarian, chicken broccoli and cheese.  Your options are limitless.
Let me know what you put in your roll up!
Ingredients:
1 package of crescent dough
8 slices of american cheese
1/2 pound of cooked organic lean ground beef
Method:
1. Preheat oven to 350 degrees.
2. Unroll dough and even out with a rolling pin then cut dough into four rectangles.
3. Lay 2 slices of cheese and place 2 tablespoons of ground meat in the center of each rectangle.
4. Roll dough up and seal open end then cut each rectangle in 4 pieces.
5. Bake rolls flat side down at 35o degrees for 10-12 minutes.