Cheerios French Toast Sticks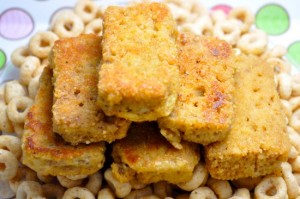 What kid wouldn't love to eat cheerios and french toast for breakfast? Imagine if you combined the two you would be super mom (as if you weren't already). I though of this recipe when I was in the supermarket and saw french toast sticks in the freezer section but I wanted to come up with my own version at home.
I added crushed cheerios to coat the french toast to give it a little crunch. Kids love anything they can eat with there hands especially if it has a crunchy coating.  I had the kids help me dip the bread and crush the cheerios.  They got the biggest kick in eating two breakfast in one. You can make this recipe with any of your kids favorite cereal.
Hope you enjoy eating and making them as much as we did!
Ingredients:
4 slices of whole wheat bread
3 eggs beaten
1 cup of milk
1 teaspoon of cinnamon
1 teaspoon of vanilla
2 tablespoons of butter
2 cups of crushed cheerios
Method:
1. Mix eggs, milk, cinnamon, and vanilla
2. Cut ends of bread then cut each slice of bread in four.
3. In a food processor chop 2 cups of cheerios or place in a sandwich bag and break the pieces up with the back of a pan or rolling pin.
4. Soak bread in egg milk mixture for 15 minutes then coat in cheerios.
5. Melt 2 tablespoon of butter and brown french toast for 2-3 minutes on each side until golden brown.
* Recipe makes 16 french toast sticks.