Bacon Gouda Mac 'n Cheese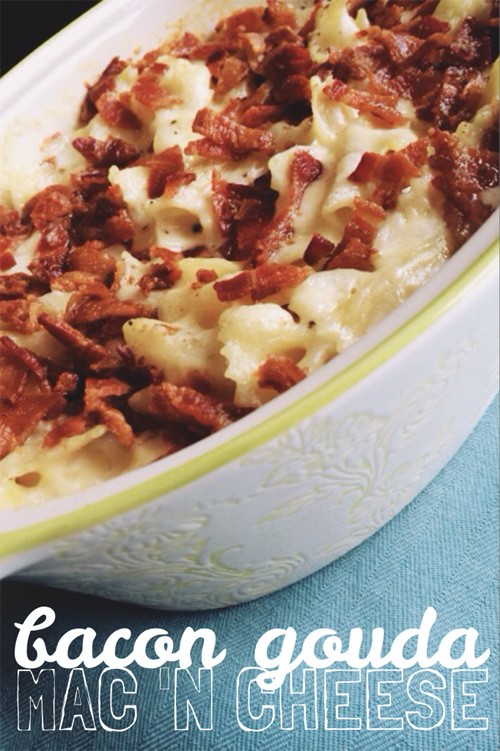 BACON GOUDA MAC 'N CHEESE
INGREDIENTS
1/4 cup butter
5 tablespoons flour
1 1/2 cups heavy cream
1 cup 2% milk
1 cup Gouda cheese, divided into 3/4 cup and 1/4 cup
1 cup mozzarella cheese
10 ounces pasta, I chose farafelle (bow ties)
6 pieces of bacon, chopped
1 teaspoon pepper
2 teaspoons Himalayan pink salt (Have you seen this at your Costco? So good! If not, substitute for a quality sea salt)
DIRECTIONS
Preheat oven to 350 degrees.
Boil pasta according to box directions.
While your pasta cooks, create your roux. In a saucepan, melt butter. Slowly sprinkle in flour. Whisk until it thickens to a paste. Slowly add heavy cream, whisking as your pour. Do the same with your milk. Allow to thicken to a cream sauce consistency. Sprinkle in a little extra flour if needed.
Once roux is thick, add 3/4 cup Gouda and 1 cup mozzarella, stir.
Add pepper and salt. Sauce is complete!
Layer your cooked and drained pasta in a casserole dish and pour cheese sauce on top. Use a large spoon to gently toss.
Sprinkle the top with the remaining 1/4 cup of Gouda. A few dashes of pink salt and all the bacon.
Bake at 350 degrees for 20-25 minutes. Watch for the sauce to bubble and the bacon to get extra crispy.