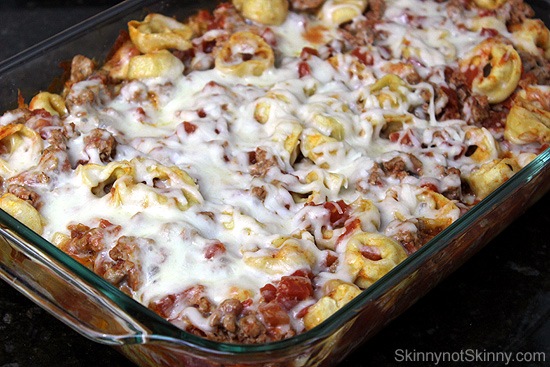 Tortellini is always a favorite in my house. Everyone loves it – even the 4 year old! Most of the time, they want it covered in white alfredo sauce but we all know that isn't the healthiest of sauces. Plus, the traditional tortellini has ham and peas in it and my husband and kids aren't very fond of either. So, that means that I usually serve tortellini with just white sauce. No meat, no protein, no extra veggies.
A few months ago, I saw this Tortellini Casserole on Pinterest and just had to try it. I mixed it up a little bit by adding turkey and taking away the ground beef and it turns out that it is amazing and has been one of our go-to dinners every couple weeks. What I love about it is that there is no white sauce, there are tons of tomatoes and it is loaded with meat. Not just any meat either – the healthier turkey option! This is by no means a super "healthy" dish but it is much healthier than the traditional tortellini so that is a win in my book. Plus, it's super easy to put together and I can even prepare it ahead of time. Win-win.
Ingredients
2 tablespoons of olive oil
1 pound of lean ground turkey
Small white onion, diced (about 1/2 cup)
2 garlic cloves, minced
1 28oz can of petite diced tomatoes
1 8 oz can of tomato sauce
1 teaspoon of kosher salt
Freshly ground black pepper to taste
1 24 oz package of frozen cheese tortellini (or fresh tortellini)
3 cups of freshly grated mozzarella cheese
Preparation:
1. In large skillet over medium heat, saute onions and garlic in olive oil, until soft.
2. Add ground turkey and season with salt and pepper.
3. Once turkey is cooked through, stir in tomatoes and tomato sauce until completely combined.
4. Stir in uncooked, frozen tortellini and 1 1/2 cups of mozzarella cheese. You can definitely use fresh tortellini and just cook the pasta a little less (only 30 minutes).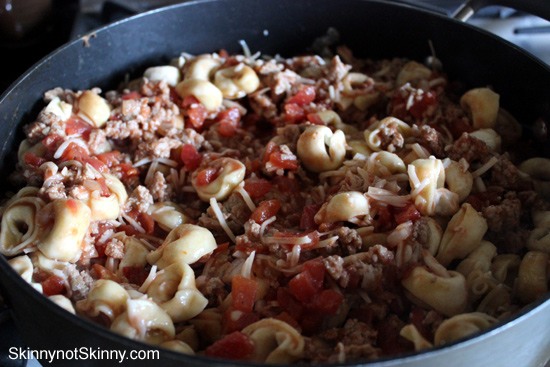 5. Transfer to casserole dish and sprinkle remaining 1 1/2 cups cheese over the top.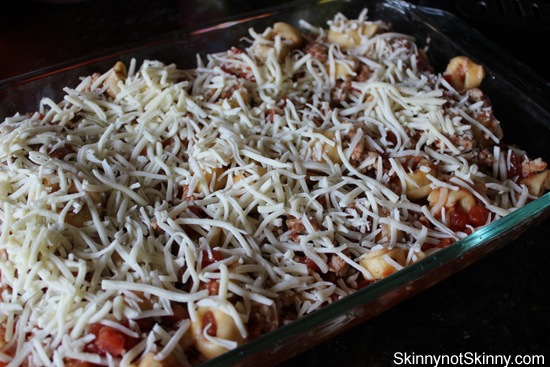 6. Cover tightly with foil and baked at 350 degrees for about 45 minutes until hot and bubbly.
TIPS:
Just like lasagna, you can prepare everything in advance, and before cooking, just store it in the refrigerator.  When ready to cook, just remove casserole dish from the fridge and pop in the oven.
You can also use ground beef like the original recipe but I really like the ground turkey in it!
If you want to make it a lighter dish, I'd cut the mozzarella cheese back to 2 cups.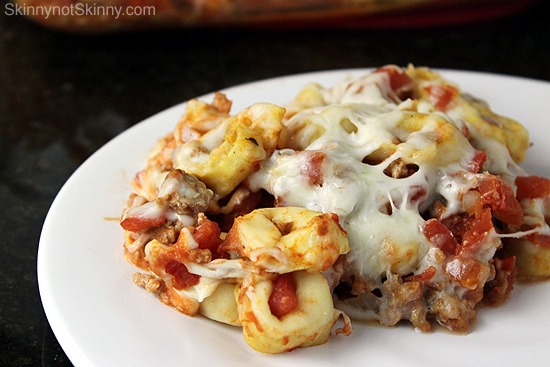 Recipe adapted from Number 2 Pencil.